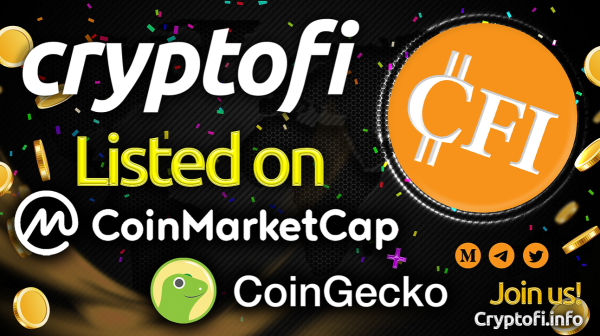 In the world of NFT gaming, CryptoFi is the hot new addition with a maximum supply of 1,000,000,000,000 $CFI. This latest P2E game will enable its players to earn coins, rewards, NFTs, and other assets along with participating in a variety of events. Now, players can have fun and earn valuable assets thanks to the unlimited earning potential of CryptoFi.
Revolutionizing Modern Gaming
Video games have long been used as a way to relax after a long, stressful day. But with the advent of blockchain technology, gamers can now earn from their hobby and take ownership of their in-game assets as well.
Just like NFT, virtual assets and items that players may earn or buy in-game, such as skins, weapons, characters, and even virtual land on the metaverse, can all be exchanged or sold for profit. Another great thing about play-to-earn games is their decentralized nature. It means that game developers can't control everything. Players can not only experiment with multiple gaming models in a range of different themes but also earn money depending on the game's mechanics they choose.
The players of P2E or play-to-earn games may participate in its ongoing growth and advancement, simply by playing games and taking part in the in-game economy to provide value for both the developers and other players.
CryptoFI: The Talk of the Town
CryptoFi is a highly anticipated play-to-earn NFT game that will provide players with the chance to earn coins and rewards, take part in a variety of activities, and have fun. It has a maximum supply of 1,000,000,000,000 $CFI on the Binance Smart Chain (BEP-20).
The game comes with a huge NFT lineup with game accessories and the in-house swap hub technology – CryptoFi Swap. Users can find all information about CryptoFi through its CryptoFi whitepaper.
Due to decentralized community participation, CryptoFi will offer an infinite profit potential together with a completely verified blockchain. In order to win, the players would have to amass as many coins as they can, making CryptoFi the perfect choice for crypto enthusiasts.
The NFT holders will be able to play the play using their characters to collect game points and win prizes like $CFI tokens, NFTs, and much more. With rewards and giveaways on weekly basis and full play-to-earn game development, CryptoFi is truly the best play-to-earn game of 2023.
Blockchain gaming is predicted to significantly increase the acceptance rate of cryptocurrencies, attract a large number of new users to the industry, and provide a large number of new employment and financial rewards for the users. Holders of CryptoFi will get to enjoy the game's first impressions soon.
How to Buy $CFI?
Users will be able to buy CryptoFi tokens $CFI pretty easily using the BITMART exchange. However, after the $CFI tokens are made available on BITMART exchange, the users will also have the opportunity to purchase CryptoFi tokens on other exchanges by switching their network to Binance Smart Chain and purchasing $CFI via their preferred currency.
Media Contact
Company Name: Cryptofi
Contact Person: Linda Bell
Email: Send Email
Country: Cyprus
Website: https://www.cryptofi.info/