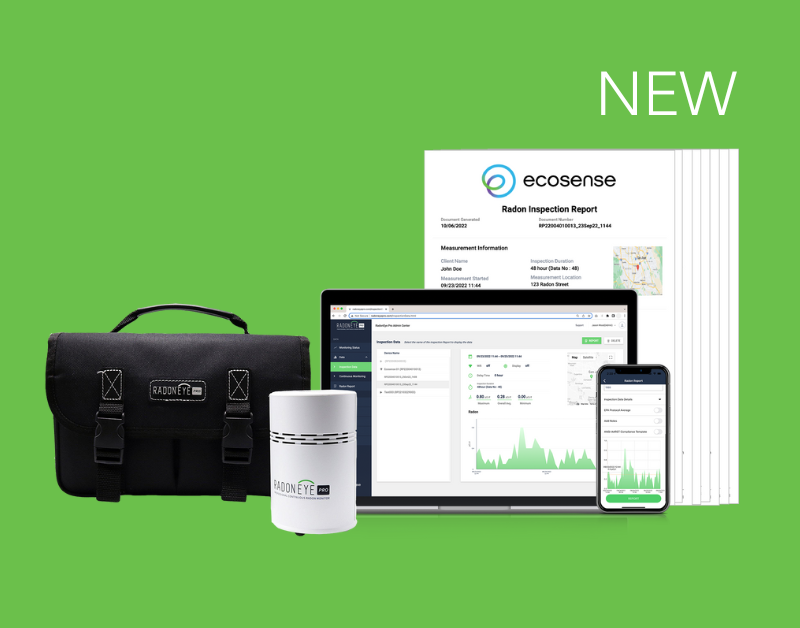 "Our focus has to be on driving awareness about the life-threatening dangers posed by this silent killer. Reporting has to be on par with mandated requirements to be at the forefront of prevention."
Radon Professionals Now Have Access to Advanced Customization and Features for Compliance and Standards Adherence
San Jose, CA – Ecosense®, the premier radon detection technology company, announces that it has updated its RadonEye Pro mobile app and web dashboard enabling radon professionals (such as home inspectors, environmental assessors, and mitigators) using the company's certified radon detection device to generate test reports that are compliant with ANSI/ AARST standards and state reporting requirements.
"This reporting and compliance integration is a boon to state-licensed or NRPP-certified radon testers as it ensures their testing reports conform with ANSI/AARST standards and state reporting requirements, thereby protecting their certification or licensure," stated Dallas Jones, Ecosense Vice President. "Even if you aren't state-licensed or NRPP-certified, the best practice is to follow the ANSI/AARST standards for testing and reporting. This will provide your customers with the most comprehensive radon assessment."
"We offer a technologically advanced and premier radon detection and monitoring solution through our product offerings," remarked Insoo Park, CEO and Founder of Ecosense. "In line with that, our product peripherals all adhere to the highest standards. Consequently, integrating elements that ensure the reporting mechanism satisfies state regulations and radon-specific standards is of key importance. Our focus has to be on driving awareness about the life-threatening dangers posed by this silent killer. Reporting has to be on par with mandated requirements to be at the forefront of prevention. Our products continually meet and exceed such mandates."
Ecosense recently released the EcoBlu™, the only digital radon detector with fast, accurate, and real-time results on a large LED display suitable for short and long-term monitoring. Integrating the latest patented radon sensor technology, EcoBlu™ is a true plug-and-play radon detector that provides its first radon result in minutes, not days. It displays radon fluctuations and gives daily, weekly, monthly, and yearly average readings– thus peace of mind all year round.
To order your device follow this link here.
About Ecosense®
Based in the heart of Silicon Valley, Ecosense is a leader in and trusted provider of both professional and consumer radon detection and monitoring solutions that are easy to use, accurate, and fast. The company's smart real-time radon detectors utilize a patented detection technology with high accuracy, delivering reliable results in minutes, not days. The EcoQube was named to TIME's List of the 100 Best Inventions of 2021 and previously was recognized as a CES 2021 Innovation Awards Honoree in the health and wellness category. Ecosense's patented ion chamber technology performance has received independent validation from the University of Michigan (Dept. of Nuclear Engineering and Radiological Science) and the Kansas State University Radon Chamber. Both studies concluded that Ecosense's patented technology performed comparably to premium research-grade detectors.
For more information, visit www.ecosense.io
Source: Ecosense
Media Contact
Company Name: Ecosense
Contact Person: Otter Public Relations
Email: Send Email
Phone: 407-394-5881
Address:100 E Pine St Suite 110
City: Orlando
State: FL
Country: United States
Website: www.OtterPR.com