A self-cleaning hair brush that removes all the tangled hairs and debris from the brush bristles after use, as well as a two-in-one electric comb for straightening messy hair, are now available for purchase on the new online store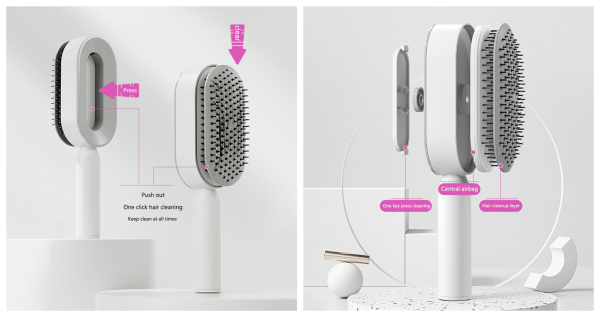 November 16th, 2022 – BORAVID is delighted to announce that it has launched a new online store with two amazing products for women's hair. In a statement released today, the company has asked women who care about maintaining a stellar appearance to visit its online store where they will find a wonderful self-cleaning hair brush and a fast-charging two-in-one electric comb.
From birthday parties to weddings, dinner dates, and corporate events, no look is complete without a perfect hairdo. However, for the most part, properly styling hair at home can prove to be a daunting and sometimes painful task for women, especially when they have to straighten their hair with a hot comb.
Whether it's for wigs or natural hair, the two-in-one electric hair straightener currently available for purchase on the online store, easily solves various hair styling problems, allowing users to tidy up messy hair and smooth out frizz with zero stress. Sporting a longer-lasting portable design, with fast charging technology, the hot comb is easy to carry—making it an excellent hair care accessory for traveling.
Suitable for all hair types and lengths, the hair straightener comes with an anti-scald feature that protects even the most sensitive scalps from burns during use. Ultra-smooth titanium plates on the mobile hot comb ensure effortless single-pass straightening while also providing consistent and accurate heat transfer and corrosion resistance.
The second product available on the online store is a self-cleaning hair brush that minimizes pain and protects hair against split ends and breakage. Brilliantly designed with an oval base and a soft cushion base with wide comb teeth, the hairbrush is pain-free on both wet and dry hair and massages the scalp—promoting blood circulation and healthy hair growth.
From straight to curly hair, thin hair, thick hair, damaged hair, wigs, and even extensions, the hairbrush is perfect for all types of hair and is armed with an easy-to-use handle that never slips out of hand. Additionally, after each use, owners can have the brush look as good as new by simply pushing a button to automatically remove all the tangled hairs and debris from the brush bristles.
BORAVID has reaffirmed its commitment to providing its customers with authentic and unique products from around the world. Its policy of dealing directly with only the best manufacturers and shipping straight to consumers allows the brand to continually offer its customers the best products at the most amazing prices. To learn more, reach out to BORAVID via the contact info below.
Media Contact
Company Name: BORAVID
Email: Send Email
Address:105, Greater London
City: London, N3 2JU
Country: United Kingdom
Website: https://boravid.com/