The flexible funnel-shaped cup lets women blossom into the perfect menstrual cycle, free from cramps, soggy crotches, and bad odours
November 16th, 2022 – Blossom Menstrual Cup is making period cycles more comfortable for women with its innovatively designed menstrual cup. Currently regarded as the best menstrual cup for beginners, the women-owned and managed brand was founded by two mothers with a shared affection for the earth and a deep sense of responsibility to care for it. The company's amazing menstrual cup is a latex-free, pliable, 100% hypoallergenic and odourless feminine hygiene product, made from the highest quality silicone & colour pigments.
"Our mission in this industry is to bring the best solution to womanhood. With Blossom Cup, you can be free to forget you are on your period. Our focus is sustainable and healthy menstrual sanitation solutions for women and girls globally."
Although perfect for women of all shapes and sizes, moms who have had one or more children enjoy the most benefit from the Blossom Cup, as it allows them to have a comforting journey post motherhood, free from cramps and soggy crotches. A Blossom Cup holds more blood than pads, tampons, and all other methods, letting women go for as long as 12 hours before needing the bathroom.
Outperforming all other products in the market by its high industry standards, the new and improved Blossom menstrual cup works like the diva cup and feels like the moon cup, and it is more economical than both. In addition to being user-friendly, Blossom Cups are also good for the environment by reducing land field waste and save women a significant amount of money and trips to the grocery stores by being reusable.
As a company, Blossom Menstrual Cup is socially conscious and believes the best solutions are always the simplest. The women-focused brand is vested in breaking the stigma and shame that still surrounds menstruation in certain parts of the world and donates a portion of the profits of every cup to support feminine hygiene education and kits for women and girls who are less fortunate. Click on the link below to check out the beautiful colours and sizes of the Blossom Cup.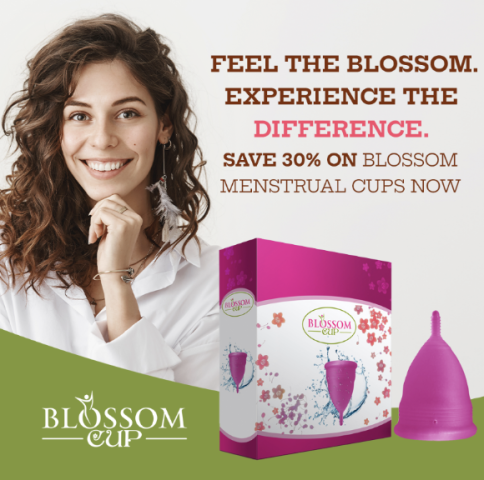 Currently, Blossom is holding its holiday season 30% off Sale and you can get yours at blossom menstrual Cup Promo.
Media Contact
Company Name: Blossom Menstrual Cup
Email: Send Email
Phone: 1 800 917 4416
Address:1 Chestnut Hill Plaza #1185
City: Newark
State: DE 19713
Country: United States
Website: https://www.blossomcup.com/