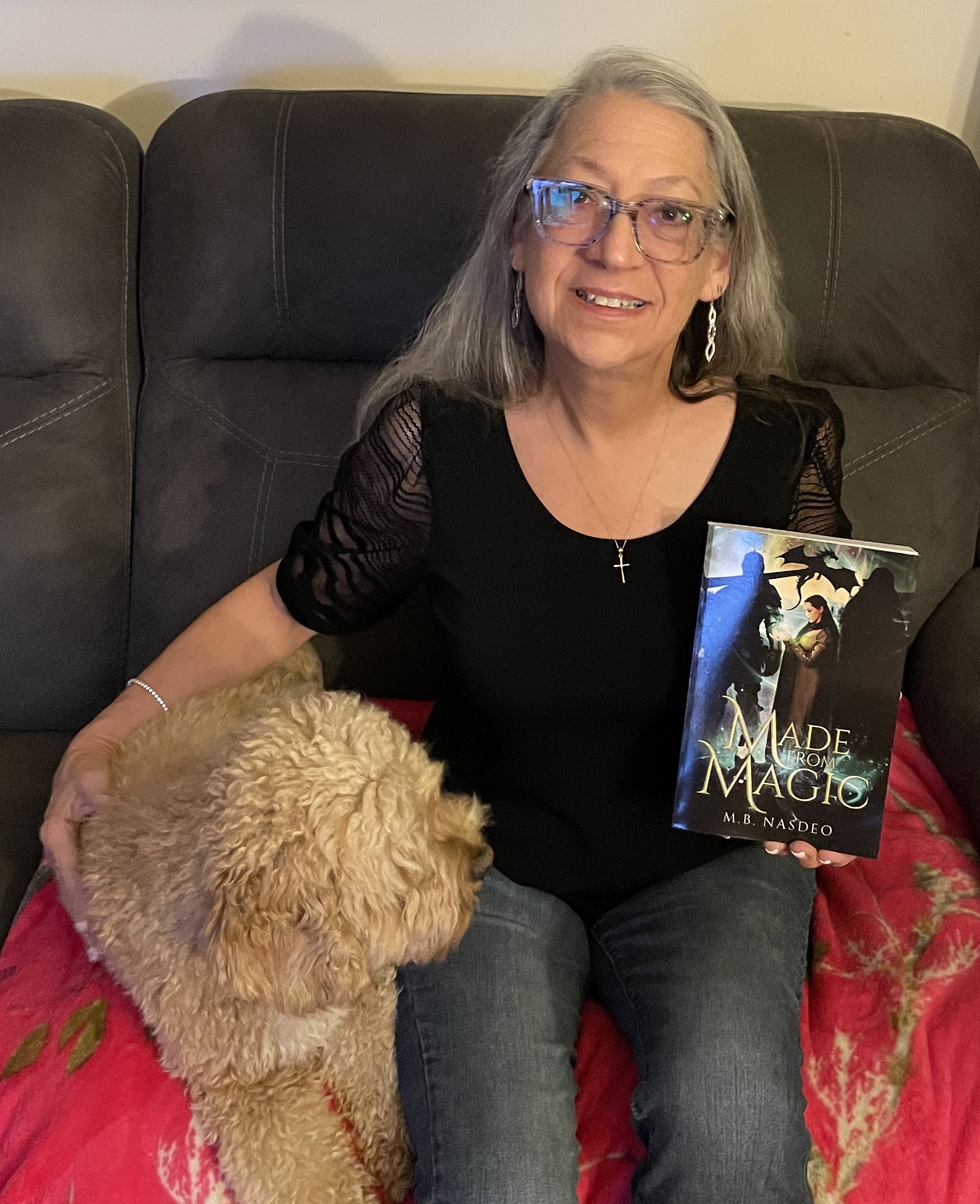 "Made From Magic" by M.B. Nasdeo has been released worldwide. This 440-page fantasy novel follows Marissa, a woman nearing middle age who is unenthusiastic about her life and struggling to find her place in the world. During her annual visit to the Renaissance Faire, her world is turned upside down when she's transported to a medieval world of mystery and magic. Discovering she's the heir to the crown of Avonridge, Marissa begins an arduous journey to ascend the throne – and contend with the forces that stand in her way.
Subverting common fantasy stories about damsels in distress, Nasdeo's compelling, intriguing tale places an unlikely heroine at the center of the action. She learns to swing a sword, faces wizards, a dragon, and the forces of pure evil, and throughout her adventure, discovers just how strong she truly is.
Throughout the book, readers are pulled into a treacherous world of knights, seers, mysterious forests, magical creatures, deadly wolves, powerful leaders, and many other familiar elements of fantasy novels, but kept guessing by the author's unique take on the genre. Simultaneously employing the things readers love about medieval fantasy and providing a fresh perspective through a "damsel in control," M.B. Nasdeo has created an empowering novel sure to thrill readers of all backgrounds.
Made From Magic (ISBN: 9781958729731) can be purchased through retailers worldwide, including Barnes and Noble and Amazon. The paperback retails for $$18.99 and the ebook retails for $4.99. Wholesale orders are available through Ingram. Review copies and interviews are available upon request.
From the back cover:
A contemporary woman named Marissa, bordering on middle age, is bored and tired of her uninspired life. She looks forward to the Renaissance Faire every year, but this year something is different. This year, when Marissa steps through the gates into the fantasy world of knights and damsels, jesters and wizards, this year the atmosphere is electric. Conspiratorial winks and head nods, including her as if she were a starring character in this wonderful charade, flit all around her as she strolls along the concourse. Before she can truly comprehend what is happening, Marissa is swept up into a magical world of true Renaissance wizardry.
Unbeknownst to her, Marissa is the heir to the crown of Avonridge, a medieval kingdom that requires her presence. In the days that follow, she is trained in the art of sword-play by a very mysterious knight who hides his face with a black, leather mask. When she leaves the familiarity of the Renaissance Faire grounds, she travels through field and forest to the castle of Avonridge to claim her throne. This journey, however, is not a stroll through the Faire concourse. This journey is fraught with traps, magic, and wizards. And this journey is only the first step in claiming the throne of Avonridge.
About the author:
M.B. Nasdeo lives with her husband, Kevin, their two dogs, Jacques and Peanut, and a backyard full of chickens. She's lived in New Jersey her entire life, working full-time, raising two sons, and loving five step-kids along the way.
About MindStir Media:
MindStir Media LLC is an award-winning book publisher. To learn more about publishing a book with MindStir Media, visit http://mindstirmedia.com or call 800-767-0531.
Media Contact
Company Name: MindStir Media LLC
Contact Person: Jen McNabney
Email: Send Email
Phone: 800-767-0531
Address:1 New Hampshire Ave Suite 125
City: Portsmouth
State: NH
Country: United States
Website: https://mindstirmedia.com/