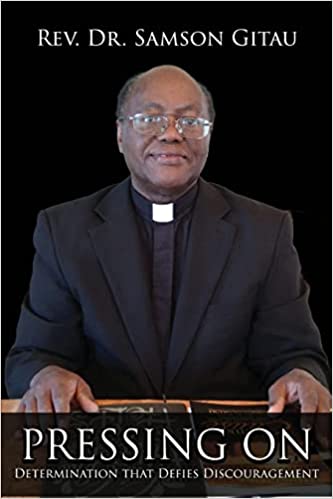 Prolific writer and clergy man, The Rev. Dr. Samson N. Gitau has launched his new memoir, "Pressing On: Determination that Defies Discouragement," an inspiring book that highlights Samson's story, from rural Matharite village in Central Kenya.
The book chronicles his education, career, as high school teacher, parish priest, principal of Bible College, director of Theological Education by Extension, and college professor.
Samson rose from his impoverished and squabbling polygamous family to acquire his master's and Ph.D. degrees from Ivy League colleges in the United States. The story culminates with his retirement after forty years of ordained ministry. Inspired by scriptures, Samson describes his life as one of pressing on, despite the forces of discouragement allied against him.
The memoir is an inspiration to many in pursuit of a noble cause, to keep pressing on, with the realization that the line between success and failure is thin if only we can garner the courage to push a little bit harder in defiance of the forces of discouragement.
The Reverend Dr. Samson Gitau has written many books and articles. Dr. Gitau seeks to inspire and encourage others as he himself has been inspired and encouraged by the holy scriptures. Some of Gitau's writings include: One Boat, One Destiny: A Study in the Book of Jonah; Without Cause: Job Finds God in Pain and Suffering; Breaking the Shackles: Contemporary Perspectives in Paul's Letter to the Galatians; Pitfalls: A Case for College Ministry; Under the Wings: Reflections in the Book of Ruth
The book has elicited rave reviews from its readers. A thrilled reader, Tim Njuguna described it as Simple, relatable, inspiring.
Pressing On: Determination that Defies Discouragement is published and marketed by Author's Tranquility Press, the best marketing tool for new and established authors, serving as the authors' ultimate book publicity partner.
Media Contact
Company Name: Author's Tranquility Press
Contact Person: Patricia Adams, Marketing Supervisor
Email: Send Email
Phone: (866) 411-8655
Address:239 Richmond Dr
City: Hiram
State: Georgia, 30141
Country: United States
Website: www.authorstranquilitypress.com