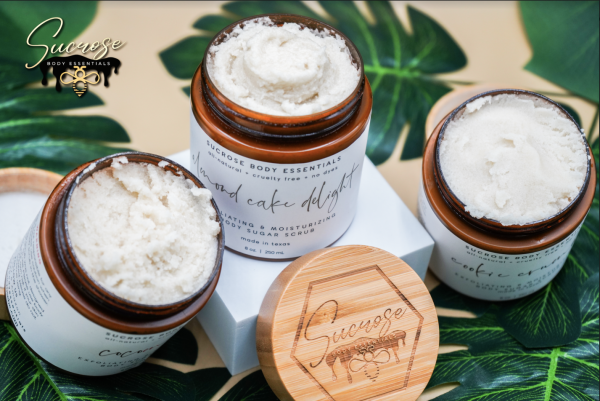 Sucrose Body Essentials (Sucrose BE) is an organic skincare company proficient in providing outstanding customer service and high quality organic sugar scrubs.
Explained for the layman, Dry skin makes the skin look and feel rough, itchy, flaky or scaly. The location where these dry patches form vary from person to person. It's a common condition that affects people of all ages. Dry skin, also known as xerosis or xeroderma, has many causes, including cold or dry weather, sun damage, harsh soaps, and overbathing.
Individuals can do a lot on their own to improve dry skin, including moisturizing and practicing sun protection year-round. Doctors also recommend various products and skin care routines such as the astounding body scrubs from Sucrose Body Essentials.
Each product from Sucrose BE contains nutrients suitable for skin nourishment. Sucrose BE's organic sugar body scrubs provide benefits such as: Improving skin-elasticity – required for aging and development; improving acne, improving scarring, reducing dead skin build-up – which ultimately produces black heads and acne; to promote therapeutic sensations, ultimately aiding in relaxation and facilitation of greater quality of rest. Sucrose BE's organic sugar body scrubs are unique, as product benefits are unified to create a one-step skincare product.
Each ingredient specifically blended to:
• Improve dry skin
• Improve skin-elasticity
• Improve acne, stretch marks and scarring
• Exfoliate (remove dead skin cells)
• Moisturize (replenish skin)
• Therapy for stress-relief
Speaking about the build up to creating this company, the head of the Sucrose Team, said: "One of the biggest challenges I faced was re-discovering my self-identity. This challenge was the root of most struggles I've walked through. As a young child, the ideology of success within my culture and sphere of influence depicted socioeconomical status and executive employment.
"This philosophy compelled a community of talented individuals to neglect our God-given personalities, gifts, and talents through various avenues such as entrepreneurship.
"As time progressed, I began to reject ideologies of my youth and culture. Exposure to a new culture and atmosphere became the catalyst to my personal growth. After re-locating, a local church became a vital piece to the puzzle in re-discovering my identity. My pastor at the time, Earl McClellan of Shoreline City church frequently taught, "Baptism is an outward sign of an inward change".
"At that time, 'change' was a great desire of mine, and therefore sparked an interest in becoming baptized. Following baptism, I learned to embrace others in community and the power of both prayer and worship. These acts helped me to overcome the greatest challenge ever faced; Sucrose Body Essentials is the blessing from a storm."
In its commitment to excelling as the best in the organic skincare sector, Sucrose BE has undergone some positive changes within the company over the past few months, including testing its methods and adjusting to recent updates to maintain quality and results for its customers. Today, they can proudly say they are the quintessential blend of reliability, integrity, value for money, thoughtful solutions, premium customer service, and quality services.
This quality service is aptly exemplified by the rave reviews Sucrose BE's services have elicited from his clients: "Had a chance to try out the almond cake scrub. It's a light and neutral fragrance for men. Never heard of a sugar scrub until I met the owner. Great product. Very soft. Moisturizing also." said Zeek Brown from New Orleans, LA.
Another excited customer, Ken Lorraine from Dallas, TX, said "I love these scrubs! Wonderful and soft. Highly recommend, you won't regret it! I've been patiently waiting for the launch".
Media Contact
Company Name: Sucrose Body Essentials
Contact Person: Sucrose Body Essentials Team
Email: Send Email
Country: United States
Website: https://sucrosebe.com/