Daniele Comelli Art is a diverse, contemporary art gallery founded by a creative Italian artist. The art exhibited is wide-ranging with numerous impressive artworks varying in both size and subject, from pop art, to figurative art and masterpieces. The gallery has participated in many art exhibitions around the world and has come out with excellent results.
Daniele Comelli Art more than holds its own in the saturated industry of curators due to a culture of kindness and savvy networking skills that have resulted in collaborations with always expanding collection of talented artists. While visually and formally distinct, the artists share a nuanced exploration of visual perception and the subjective excesses it enables.
One of the notable artists from the gallery is Daniele Oldani, a creative artist that specializes in graffiti and painting. Born in 1979, Daniele Oldani is a ground-breaking painting artist known to depict a unique perspective toward the world in his paintings. His painting style is absolutely unique and widely identifiable as something of a special kind.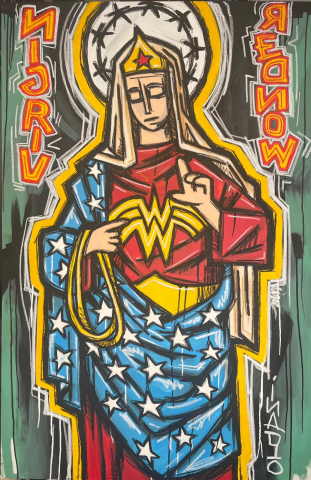 Daniele Oldani's journey into the art world started at the age of fourteen when he began doing some graffiti and painting artwork. He attended the school of comics in Milan and while studying, he collaborated as a cartoonist illustrator with various publishing houses including Warner Bros. Daniele Oldani has his own dedicated gallery at the Daniele Comelli Art where people can view and also purchase his extraordinary paintings at pocket-friendly prices.
The unique background of the gallery's owner as the son and grandson of an artist makes Daniele Comelli Art stand out from others. Also, the gallery's success is partly due to the approach the founder takes with the diverse art creators. He has always stood by the belief that the financial or educational background of an artist should not determine the quality of an artwork. His expertise in picking highly talented artists has seen the gallery have several successful exhibitions.
Through their online store, Daniele Comelli Art is reaching art lovers globally. From highly expressive contemporary paintings to conceptual artworks, there is something for everyone at the gallery! Every original artwork can be ordered as a custom art or original painting based on individual preference.
Check out all the paintings and more information about Daniele Comelli Art at www.danielecomelli.com.
Media Contact
Company Name: Daniele Comelli Art
Contact Person: Public Relations
Email: Send Email
Country: Italy
Website: www.danielecomelli.com