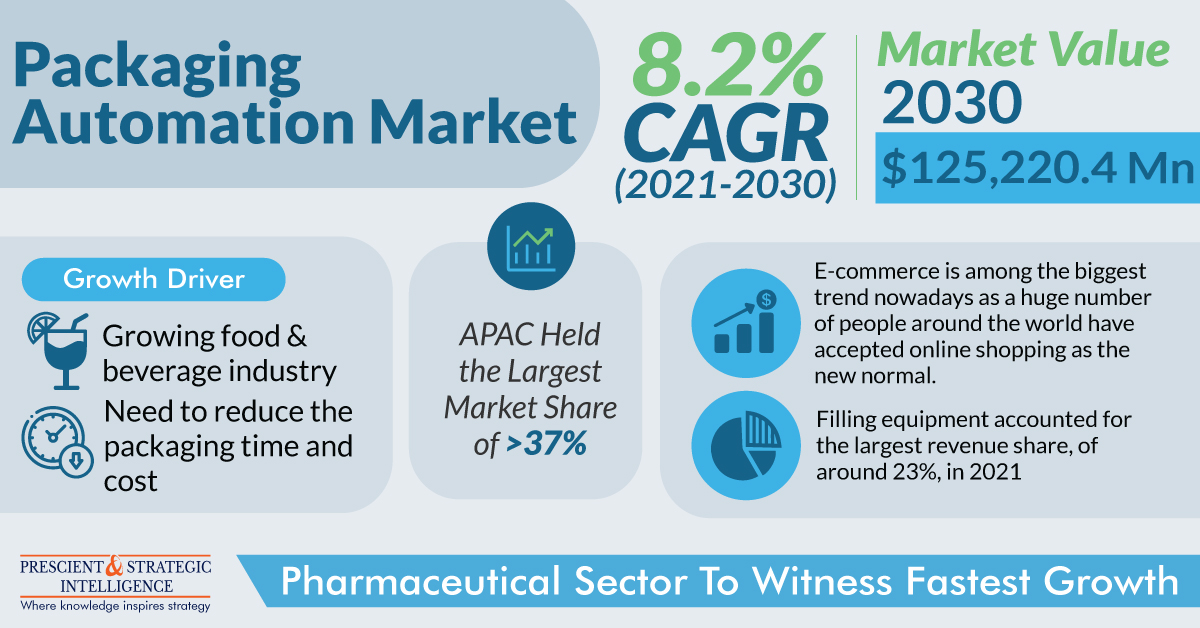 APAC packaging automation market accounted for the largest revenue share, of over 37%, in 2021, and it is further expected to maintain its position during the forecast period.
In 2021, the global packaging automation market accounted for $61,848.5 million, which is on track to reaching a $125,220.4 million value by 2030, growing at an 8.2% CAGR from 2021 to 2030. The main drivers for the market expansion are the growing use of automation in the manufacturing sector, fast industrialization, and desire to reduce staffing demand.
E-commerce is one of the biggest trends since so many people worldwide have come to consider online shopping as the new standard. In emerging economies, including China and India, online shopping activities are rising significantly. As a result, there is a considerable need for packaging equipment at all stages of the supply chain.
Get the sample pages of this report: https://www.psmarketresearch.com/market-analysis/packaging-automation-market-report/report-sample
Key Findings of Packaging Automation Market Report
Filling equipment holds an around 23% share in the market, and it is predicted to stay on this path in the coming years. This can be attributed to the wide usage of automated filling machines to improve packaging operations.
Moreover, wrapping machines held a significant share in the packaging automation market in the past due to their application in tertiary and secondary packaging. Manufacturing facilities benefit from the automation of the wrapping process in terms of increased productivity, high efficiency, time savings, and lower spending on wrapping films.
Additionally, the labeling category will experience considerable growth due to the widespread usage of labeling equipment in the manufacturing sector for the printing of brand names and other important information on the product packaging.
The pharmaceutical category will grow at the highest rate in the future. This is because of the booming demand for all kinds of medicines, high R&D spending, increasing need for sustainable packaging, and surging funding by significant companies to upgrade their production abilities.
The food processing category holds an around 37% share in the packaging automation market, and it will dominate the market throughout the decade. This is because automated food packaging devices are essential since they increase efficiency and offer safety and security, without requiring human interaction.
Browse detailed report on Packaging Automation Market Growth, Development and Demand Forecast to 2030
Over 37% of the global revenue was generated in APAC in the past few years, and it is expected that the region will continue to lead in the future as well. This results from several factors, including the fast urbanization, increasing family spending power, expanding e-commerce sector, and clear government regulations on energy efficiency and technological advancements.
In terms of revenue share, Europe is second in the packaging automation market. The high demand for highly automated, flexible, and efficient packaging equipment in the personal care, chemical, and pharmaceutical industries, rise in packaged food consumption due to sedentary lifestyles, and accessibility of cutting-edge automation technologies for packaging can all be credited for this growth.
Global Packaging Automation Market Report Coverage
By Product Type
Filling
Labelling
Case Packaging
Bagging
Palletizing
Capping
Wrapping
By End Use
Food Processing
Beverage Processing
Pharmaceuticals
Personal Care and Toiletries
Industrial and Chemicals
Regional Analysis
North America
Europe

Germany
France
U.K.
Italy
Spain

Asia-Pacific

China
India
Japan
Australia
South Korea

Latin America
Middle East and Africa

Saudi Africa
Saudi Arabia
Browse More Reports Published by P&S
Retail E-Commerce Packaging Market Research Report: By Material Type, End User- Global Industry Analysis and Growth Forecast to 2030
Bubble Food and Beverages Market Size and Share Analysis by Product, Source, Distribution Channel – Global Industry Growth Forecast to 2030
About P&S Intelligence
P&S Intelligence provides market research and consulting services to a vast array of industries across the world. As an enterprising research and consulting company, P&S believes in providing thorough insights on the ever-changing market scenario, to empower companies to make informed decisions and base their business strategies with astuteness. P&S keeps the interest of its clients at heart, which is why the insights we provide are both honest and accurate. Our long list of satisfied clients includes entry-level firms as well as multi-million-dollar businesses and government agencies.
Media Contact
Company Name: P&S Intelligence
Contact Person: Abhishek
Email: Send Email
Phone: +918887787886
Address:Noida Sector 2
City: Noida
State: UP
Country: India
Website: https://www.psmarketresearch.com/market-analysis/packaging-automation-market-report