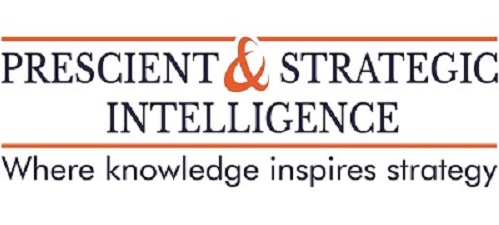 Asia-Pacific medical injection molded plastics market is predicted to witness the fastest growth during the forecast period, with a CAGR of over 6%.
The value of the medical injection-molded plastics market was about $23,015 million in 2021, and it will reach close to $37,900 million by 2030, at a growth rate of about 6%. According to the market research study published by P&S Intelligence. This is because of the increasing plastic consumption in numerous healthcare applications, such as implant packaging, medical devices, and mobility aids. Additionally, the technological progressions and increasing R&D spending in the healthcare sector drive the requirement for medical-grade injection-molded polymers.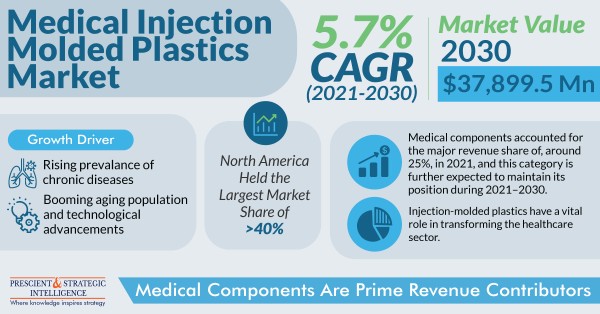 Medical components had a revenue share of around 25% in the medical injection-molded plastics market in the year 2021, and they will maintain their position in the years to come. This can be credited to the widespread usage of high-grade plastics for the manufacturing of syringes, catheters, containers, and medical bags. Additionally, the requirement for lightweight and extremely durable medical products that can be sterilized with ease boosts the growth of the industry.
Get the sample pages of this report: https://www.psmarketresearch.com/market-analysis/medical-injection-molded-plastics-market/report-sample
Injection-molded plastics play a significant role in transforming the healthcare industry. These materials are utilized in the manufacturing of pregnancy test devices, disposable plastic syringes, antibacterial contact interfaces, blood bags, and new heart valves, housings for needles, blood sample analysis cuvettes, and other medical devices and pieces of machinery, for making them lighter and easy to disinfect.
North America has the largest demand for medical injection-molded plastics, and it will continue the trend in the future. This is because of the rising income, developed healthcare infra, increasing healthcare costs, and snowballing aging population. The U.S. holds the larger share of the regional medical injection-molded plastics market because of the advanced technology, increasing demand for implantable devices, surging health consciousness, and support of the government and health insurance policies.
Gas-assisted molding is one of the main market trends, as it offers higher precision in the shape and design of the chosen medical parts, even with the use of less plastic material than traditional procedures. The gas pressure inside the mold leads to better-quality plastic packing, lower warpage, and decreased sink marks, surface defects, and internal tension. On the whole, gas-assisted injection-molded plastics deliver lightweight, stronger, and more-attractive products. This procedure is used to reinforce ridged components and allow for more design elasticity for intricate parts, metal-to-plastic conversions, and removing multiple part assemblies.
Browse detailed report on Medical Injection Molded Plastics Market Size, Share and Demand Forecast to 2030
Polypropylene had the largest share of revenue, of over 35%, in the year 2021 in the medical injection-molded plastics market, and this trend will continue in the future. This is because of the shock, moisture, and chemical resistance; low weight, high molding competence, lowest density, and lower cost of polypropylene.
Global Medical Injection-Molded Plastics Market Report Coverage
By Product Material
Polypropylene (PP)
Acrylonitrile Butadiene Styrene (ABS)
Polyethylene (PE)
Polystyrene (PS)
Polycarbonate (PC)
By Application
Medical Components
Implants
Cleanroom Supplies
Mobility Aids
Regional Analysis
North America
Europe

Germany
France
U.K.
Italy
Spain

APAC

China
India
Japan
Australia
South Korea

LATAM
MEA

Saudi Arabia
South Africa
Browse More Reports Published by P&S
Nitrile Butadiene Rubber Market Report by Product, End User – Industry Growth and Demand Forecast to 2030
Polypropylene Market Report by Type, Application, End Use – Industry Development and Demand Forecast to 2030
About P&S Intelligence
P&S Intelligence provides market research and consulting services to a vast array of industries across the world. As an enterprising research and consulting company, P&S believes in providing thorough insights on the ever-changing market scenario, to empower companies to make informed decisions and base their business strategies with astuteness. P&S keeps the interest of its clients at heart, which is why the insights we provide are both honest and accurate. Our long list of satisfied clients includes entry-level firms as well as multi-million-dollar businesses and government agencies.
Media Contact
Company Name: P&S Intelligence
Contact Person: Abhishek
Email: Send Email
Phone: +918887787886
Address:Noida Sector 2
City: Noida
State: UP
Country: India
Website: https://www.psmarketresearch.com/market-analysis/medical-injection-molded-plastics-market