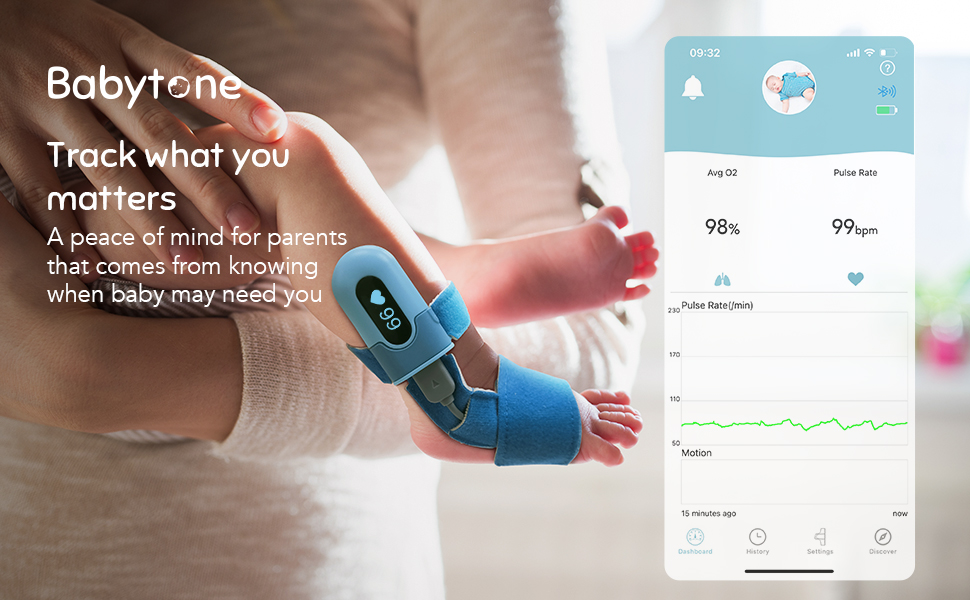 Babytone introduces an effective infant oximeter for babies and toddlers. The Babytone infant pulse oximeter is a home monitor used to measure an infant's oxygen saturation or a small child's. It uses infrared light to measure the amount of oxygen in the blood and displays this information digitally.
An infant pulse oximeter is a device that measures the percentage of oxygen saturation in a baby's blood. Infant pulse oximeters are available from several manufacturers as part of a home monitoring system and can also be purchased separately for use at home or in the hospital.
Some factors to consider when choosing an infant pulse oximeter include the budget and the baby's age. For example, an infant pulse oximeter for newborns may not measure the percentage of oxygen saturation below 90%, but one for older infants should do so. Many parents choose an infant oxygen saturation monitor with features such as a backlight that makes it easier to read the screen at night or a memory function that automatically stores and tracks any changes in oxygen saturation over time. In addition, a warranty is another factor to consider because if the pulse oximeter fails within the warranty period, parents may be able to get it repaired or replaced free of charge. There are also many different brands available, so parents should look into which ones have a reputation for reliability.
Breathing is one of the most essential things babies do, and it's scary to think about them not being able to breathe correctly. While a parent can notice some conditions that interfere with breathing at home, such as wheezing or retractions, others, like apnea, might not be so noticeable. A pulse oximeter can be used to check your baby's oxygen levels in real-time. It attaches to the baby's finger or toe, similar to a pulse oximeter used on an adult at the hospital. It is non-invasive and painless, and parents will see the results instantly on a display screen. If the baby has a low oxygen level, or if the reading keeps dropping even though the baby seems fine, it could be a sign of a dangerous problem like apnea. This device can help parents monitor for any problems before they become serious.
"The Babytone pulse oximeter is the best infant pulse oximeter for home use because its tiny size makes it easy for parents to carry around everywhere without getting in the way when caring for their children. It comes with lithium-polymer batteries, so you don't have to worry about charging it. It doesn't need calibration either, so parents can use it right out of the box." said a Babytone representative.
Babytone is a company dedicated to helping parents keep their babies happy and healthy. Since they were established in 2013, they have worked to create monitors that help babies sleep better and more comfortably while also providing parents with the reassurance they need. Their products can be found in parenting stores around the world, as well as online.
For more information, please visit https://getbabytone.com/products/baby-oxygen-monitor-s1.
Media Contact
Company Name: Shenzhen Livenpace Technology Co.,Ltd
Contact Person: Chita
Email: Send Email
Phone: +8617876252384
Address:Phase 2, 4th Fl., Tingwei Industrial Park No. 6, Liufang Road, Zone 67 Xin'an, Bao'an
City: Shenzhen
Country: China
Website: getbabytone.com