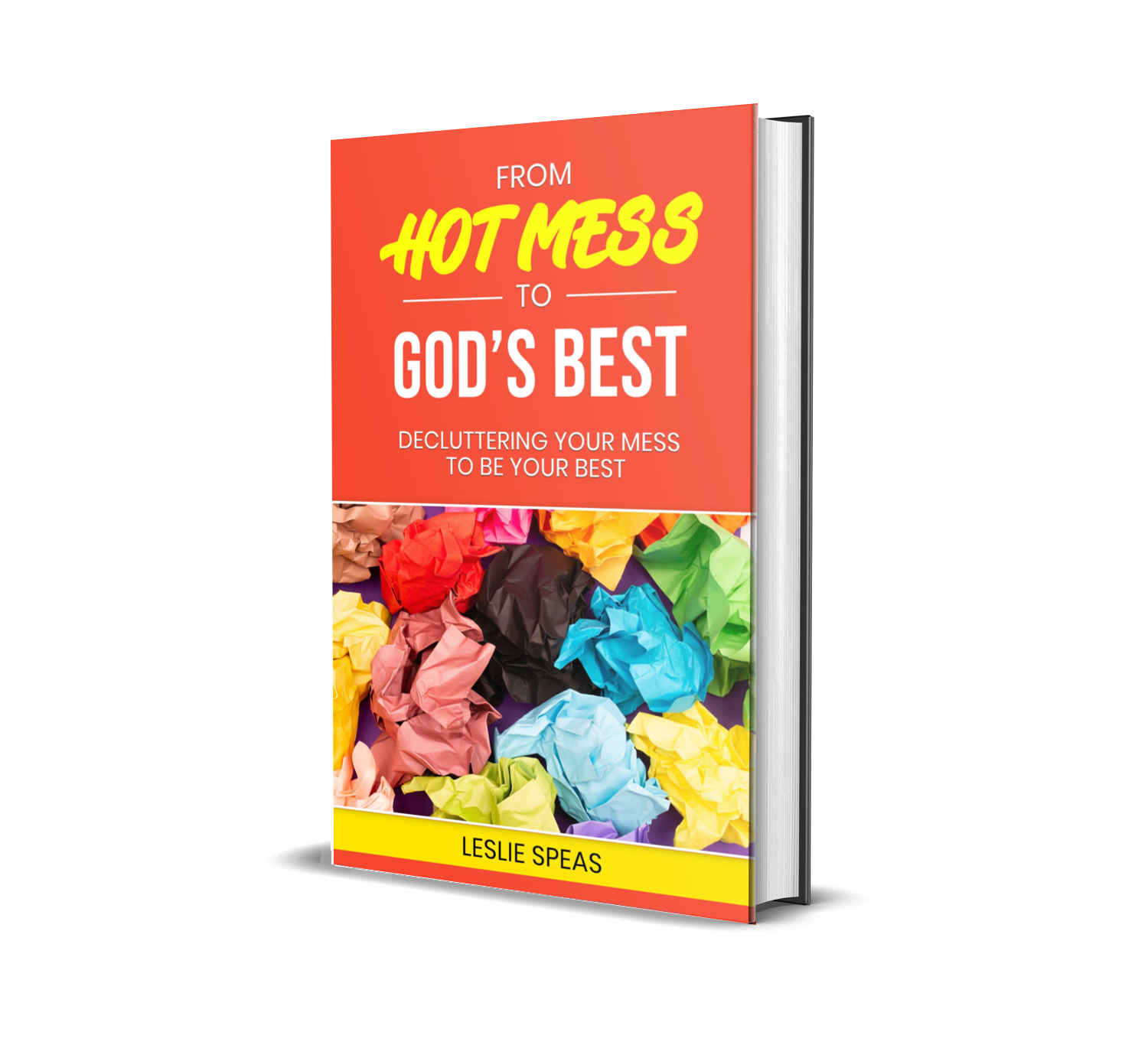 CHICAGO, Ill. – Kharis Publishing today announces the release of "From Hot Mess: Decluttering Your Mess to Be Your Best" (ISBN: 978-1637461594) by Leslie Speas, a witty, helpful book that helps increase awareness of areas in our lives that are messy and provides strategies for decluttering our minds.
Do you have issues that negatively affect you and hold you back from living an unencumbered life? Would you like to overcome them? If so, this book is for you!
Leslie Speas uses personal stories, humor, and Biblical information to explore twelve of the most common strongholds (mindsets or attitudes) that clutter our minds and keep us from God's best for our lives. These strongholds include comparison, control, guilt, people-pleasing, fear, pride, rejection, anger, disappointment, and more. Further, she shares practical tips for overcoming them.
Below is an acronym that sums up the goal of the book.
H – Helping
O – Others
T – To
M – Make
E – Every
S – Stronghold
S – Scarce
So, are you ready to declutter your mess? Let's start now!
Video Link: https://www.youtube.com/embed/Ce8mMMAxLA0
According to Miguel R. Viera, author, Mission Minded in the Workplace: Illuminating the fruit of the Spirit, "Our brains are more complex than any supercomputer. Through it, we experience emotions like love and joy while involuntary actions naturally occur like breathing and beating hearts. Computers were created by the human race but man and woman were created by God. The most impressive quality of the human mind is the ability to have a relationship with the One True God through His Son, Jesus Christ. "From Hot Mess to God's Best" is a home run for those looking to embrace being created in God's image and taking practical steps to declutter your mind as you run towards glorifying God in all you do."
"From Hot Mess to God's Best" is published by Kharis Publishing and is now available wherever books are sold, including Amazon: https://www.amazon.com/dp/1637461593/ Retailers and other agencies may order copies from Ingram Content Group or through the publisher (ISBN: 978-1637461594): https://kharispublishing.com/kp/product/from-hot-mess-to-gods-best/
Leslie Speas is an author from North Carolina who is a self-proclaimed hot mess. Her first book, Confessions of a Hot Mess: From Mess to MESSage, was released in 2021. Leslie claims that she is not your typical MESSenger. She compares. She tries to control. She is impatient. She has an off-color sense of humor. But she has felt a strong, unwavering conviction that God wants her to share her mess to help others with theirs.
About Kharis Publishing:
Kharis Publishing, an imprint of Kharis Media LLC, is a leading Christian and inspirational book publisher based in Aurora, Chicago metropolitan area, Illinois. Our mission is two-fold: 1. Provide an innovative publishing platform for professionals, Christians, pastors, workplace leaders to tell their story and share in a book form what God has put in their hearts, with a focus on under-represented writers (including women and first-time authors); 2. Equip orphans in developing countries with literacy tools. That is why, for each book sold, the publisher channels some of the proceeds into providing books and computers to orphanages in developing countries so that these kids may learn to read, dream, and grow. For a limited time, Kharis Publishing is accepting unsolicited queries for nonfiction (Christian, self-help, memoirs, business, health and wellness) from qualified leaders, professionals, pastors, and ministers. Learn more at: https://kharispublishing.com/
Media Contact
Company Name: Kharis Media LLC
Contact Person: Rufus Philip
Email: Send Email
Phone: (630) 423-6309
City: Aurora, Chicago
State: IL
Country: United States
Website: https://kharispublishing.com/kp/product/from-hot-mess-to-gods-best/