A fairytale garden sanctuary inside a timeless Santa Monica Estate makes "Happily Ever After" a reality.
Santa Monica, CA – December 21, 2022 – On one of the most sought after streets in Santa Monica, La Mesa Drive, lies an enchanting home existing outside of time and place that has been kept secret for the majority of the last century. Every update in The Holstein House has kept the integrity of its story – a magical sanctuary of intricate design and timeless art pieces.
Immediately upon entering the property you are greeted with a private courtyard surrounded by towering hedges fit for the most exclusive parties or intimate celebrations. Through the threshold you uncover a home full of warmth with seemingly endless intricacies to discover – a majestic bar hidden within a wardrobe, a library fit for Sherlock himself, and a garden that transports you to Southern Europe. Even the bathrooms display decadence with meticulously designed decor.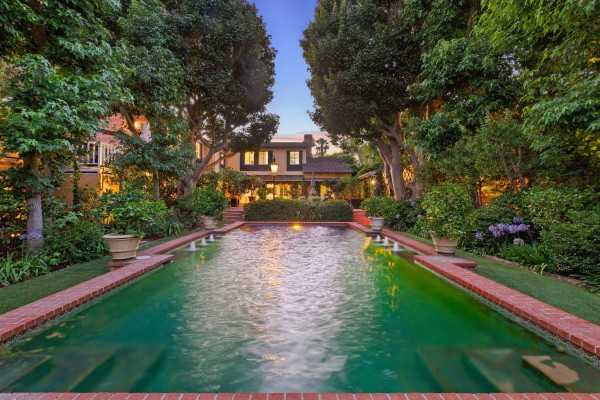 Dozens of exotic trees full with fresh fruit line the interior of what feels like a Garden of Eden pulled directly from a high-fashion editorial magazine. Charming guest quarters suitable for any visitor sits a short stroll away from the main residence. The entire estate exudes an essence of effortless excellence.
A grand pool capable of accommodating a number of guests stretches the length of the garden. The peaceful sound of falling water from an assortment of fountains located alongside and just beyond the pool fills the air creating a dreamlike atmosphere. It is the perfect venue to host a stylish function or simply relax and enjoy a fine novel on a glorious sunny afternoon.
For the first time in nearly 68 years, this home has become available to be claimed by the proper suitor – a keeper capable of maintaining its true magic.
About
The Holstein House has been featured in Architectural Digest and was designed by SoCal renowned Los Angeles architect George M. Holstein for his family in 1929. Award-winning landscape architect Dudley Trudgett designed the classic pool and gardens on the nearly three-quarters-of-an-acre wooded site. The home features a detached guest house, 5 bedrooms, and 5 bathrooms covering a total of 4,765 square feet.
Media Contact
Company Name: Sotheby's International Realty
Contact Person: Jeremiah Eden, Wendi Chandler, Tomer Fridman, Anton Smirnov
Email: Send Email
Phone: 310.980.0261
Country: United States
Website: www.TheHolsteinHouse.com