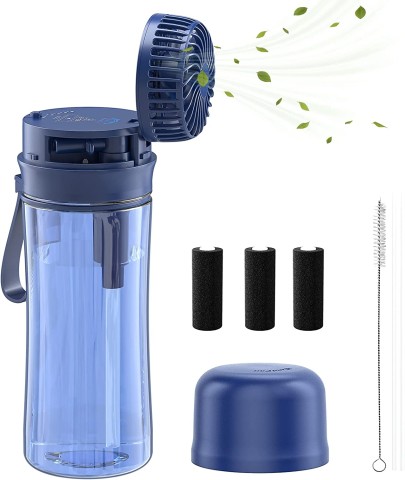 HandFan, a tech solutions company that helps its clients enjoy a genuine, comfortable life, is introducing its latest product, the innovative hand fan bottle. Designed to be the ultimate personal cooling device, HandFan's smart bottle keeps you comfortable for hours.
HandFan water bottle with fan HF7 is a 3-in-1 multifunctional portable water bottle that can be used either as a bottle, a drinking filter or a fan. Its multifunctionality will sort your sports needs and outdoor activities such as running, cycling, camping. Users of the fan have dual means of cooling off in the summer with water and fan included while safety is ensured for the user with the filter.
HandFan is famed for combining high-tech function with elegant product appearance. This is because the company's core production services is enshrined in developing the functions and simplifying the design of its products, a prerequisite they used on the innovative hand fan bottle. "It encourages us to keep improving our products in order to meet various needs from our customers", declared the CEO of HandFan.
The cup is ergonomically designed to meet your needs while running and enjoying the breeze. Since its birth, HandFan has received safety certifications and patents for high performance 3-in-1 utility patents and cup designs. HandFan's intellectual property patents are recognized in the US, EU, Asia and the world.
The water bottle filters particulates (sediment, microplastics). Its ultra-powdered activated carbon adsorbs many chemicals, pesticides, herbicides, heavy metals, VOCs, flavors and odors, ensuring the user drinks bacteria-free water.
The portable hand fan bottle oscillates with a sound output of less than 40 dB — quieter than a soft whisper. The hand fan is lightweight and compact with a size of less than 0.5lb, also it is waterproof and washable that save you tons of time. More impressively, it's built with a high-performance rotating machine + durable animal battery for long operation time. One full charge can be used for more than 15 hours, giving users hours of precious breeze in hot weather.
The incredible portable hand fan bottle has elicited rave reviews from its users. A satisfied client, Douglas, described it as a great water bottle with fan. "A nice water bottle, great idea to have a built in fan. Works really well and was very handy when on the tube in the summer. Simple enough to clean and the battery for the fan last a while. Would recommend."
To have an in-depth look at the astounding 3-in-1 multifunctional portable water bottle, check out the company's website at handfan.com/
Media Contact
Company Name: HandFan
Contact Person: Jacky
Email: Send Email
Country: China
Website: https://www.amazon.com/HandFan-Stroller-Outdoors-Rechargeable-Waterproof/dp/B09TN8LTPZ?th=1