OPLED a homeware solutions company that helps its clients enjoy a genuine, comfortable life, is introducing its latest product, the OPLED foldable audio lamp.
A great lamp can transform the dimmest corner of a room into the most inviting space to read, relax, or work in—an illuminating punctuation mark of a room's decor. The best lamp designs are wireless and have integrated rechargeable batteries, making them ideal for alfresco use. They're also very handy to have around the home, especially if you have gloomy corners where cables won't stretch, or if you want an alternative to harsh overhead lights in socket-less spaces such as bathrooms.
OPLED is pitching its services in this sector with its decorative DuPont™ Tyvek®/ Hand-polished lamp. OPLED is unlike any other lamp. It's portable, collapsible and rechargeable, allowing you to use it anywhere. OPLED is crafted with environmentally friendly materials and 100% recyclable, waterproof DuPont™ Tyvek® paper.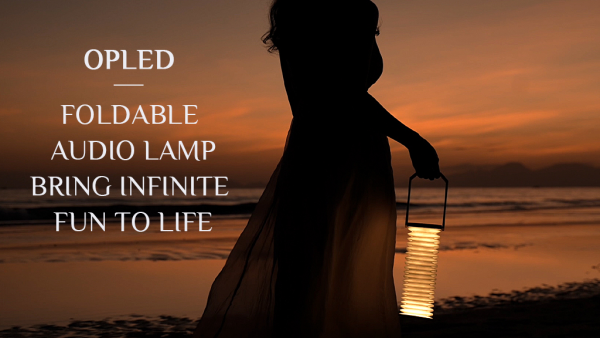 OPLED is not only a lamp that lights up the darkness but also offers you the Bluetooth audio function. It contains high-quality sound, whichconnects your phone through Bluetooth to receive voice reminders from your phone so it can accompany you to enjoy the most beautiful moment of your life. Its beautiful and reliable octagonal design adds a touch of art to your home or office space.
The OPLED was designed to be cordless and foldable, compact and lightweight. Users can easily take it with them wherever they go, including to the beach, campsite or camping trip. Equipped with wooden handle, you can also hang it easily, no matter on the bedside or wall of your room. The light last 6 hours on a full-charge while driving with Type-C cable.
OPLED is a product of innovation and environmentally conscious design. Its cover is made of wood and bamboo and the body of the lamp is made of 100% recyclable, water resistant DuPont™ Tyvek® which is light, comfortable, but resistant to tear and discoloration. The "core" of OPLED is comprised of high output LED lights and long lasting Lithium Ion battery. OPLED has an elegant texture and wood vision that is more pleasing to the eye! Its innovative design gives it a unique style for any setting.
Speaking about their services, the CEO of OPLED said: "We are a team of people who are enthusiastic about our life. We always struggle in our life and neglect the beauty in our life. Think about it, how long have you not enjoyed your life in your daily? And yes, this project is made to awaken your enthusiasm for your life!
"We have devoted much of our endeavor to the design of the lamp. We have confidence that you are fond of the design and are surprised by the practical usage. Slow down your steps, and pay more attention to your leisure time. Switch on the lamp, and play soothing music, I believe, you will take a break from your busy life."
For an in-depth look at the fascinating OPLED foldable audio lamp, check out the company's page on Kickstarter.
Media Contact
Company Name: OPLED
Contact Person: Louie
Email: Send Email
Country: China
Website: https://www.kickstarter.com/projects/galaxycreatinglab/opled-foldable-audio-lamp-bring-infinite-funny-to-life?ref=5bjovi&token=5eda56e4