DOGO, the ultimate meme token and native token of the Dogodoge ecosystem, is now available on the Ethereum network. Recently, the crypto platform has launched its
PRESALE
going live now. With a total supply of 10 billion DOGO tokens, out of which 39% is set aside for the presale.
Dogodoge
is dedicated to protecting the dogs, to this cause,
Dogodoge
coin to commit 5% of total supply to charity wallet and help advocate for the dog protection. The presale just started in as many as 7 stages, starting from $0.002. The price of DOGO tokens increased with each stage until it reached the seventh phase at $0.0091. Team is KYC vertified by Coinsniper, and smart contract has been audited by Solid Proof. This community-driven token is gaining attention for its use of built-in NFTs and its Metaverse, the Dogoverse.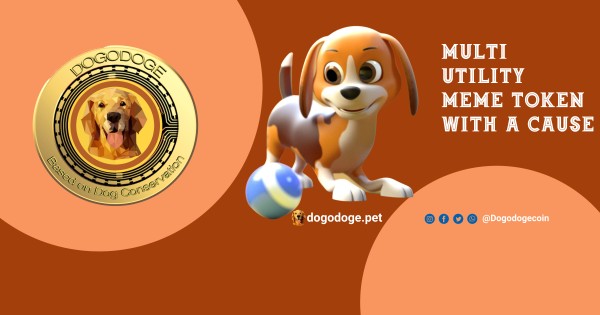 DOGODOGE is an ERC-20 utility token that can purchase NFTs and participate in game modes, P2E, and governance. Players can also convert their DOGO tokens earned in-game into other currencies using the Dogo Swap DEX, a decentralized exchange integrated into all Dogo game arenas. Alternatively, players can hold and stake their DOGO, with stakers eligible for extra benefits within the game.
Moreover, the company provides Dogo Meta Race Game, an NFT-based dog racing game built on the blockchain to simulate real-life racing experiences. This play-to-earn game combines NFTs and P2E for a unique gaming experience. Players can create a legacy by making a stable of winning race dogs and earning rewards through in-game activities.
In addition to the Meta Race Game, DOGODOGE also offers the Dogo Swap DEX, which allows holders to swap and buy DOGO tokens directly and convert their winning rewards to another currency. It is the foundation upon which many of DOGODOGE's ongoing community development efforts will integrate with the marketplace and games. This decentralized exchange is an integral part of the Dogodoge ecosystem, providing users with a smooth and hassle-free experience.
Furthermore, DOGODOGE facilitates its users with a staking program that allows users to receive rewards simply by holding DOGO tokens in their accounts. By staking their tokens, users can increase their earnings while sitting in their accounts.
To purchase DOGO tokens during the presale, you will need to follow these steps:
Install a wallet that is compatible with the DOGODOGE platform. It can be a MetaMask wallet on a browser or a Trust Wallet on mobile.
Connect the wallet to the DOGODOGE platform by selecting one of the following options: Buy with ETH, Buy with USDT, Buy with Credit Card
Follow the prompts to complete the purchase.
Once the presale ends, holders can claim their purchased DOGODOGE tokens using the claim page.
Disclaimer: Please note that these steps are a general outline and may vary depending on the specific platform you use to purchase DOGODOGE tokens. It is always important to carefully read and follow any instructions provided by the platform to ensure a smooth and successful transaction.
Consequently, DOGODOGE is a unique and innovative meme coin gaining attention for its combination of NFTs, P2E, Web3 and decentralized exchange capabilities. Its use cases and utilities make it valuable to the cryptocurrency market. A decentralized meme token that evolved into a vibrant system.
About the company – DOGODOGE
DOGO is a new type of cryptocurrency that includes non-fungible tokens (NFTs) and has its virtual world known as the Dogoverse. This community-driven token aims to create wealth for its users and is native to the Dogodoge ecosystem. It is built on the Ethereum network and can be used for various purposes, including purchasing NFTs, participating in games, and governance. As an ERC-20 token, it has utility within the Dogoverse.
Media Contact
Company Name: Dogodoge
Contact Person: Jackson Pollock
Email: Send Email
Country: Cayman Islands
Website: https://dogodoge.pet