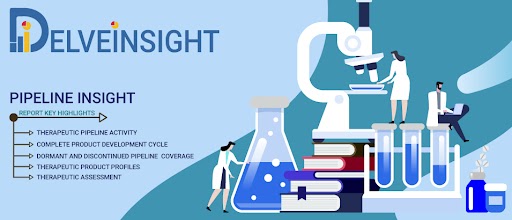 DelveInsight's, "Acute Kidney Injury – Pipeline Insight, 2023," report provides comprehensive insights about 30+ companies and 30+ pipeline drugs in Acute Kidney Injury pipeline landscape. It covers the pipeline drug profiles, including clinical and nonclinical stage products. It also covers the therapeutics assessment by product type, stage, route of administration, and molecule type. It further highlights the inactive pipeline products in this space.
DelveInsight's 'Acute Kidney Injury Pipeline Insight 2023' report provides comprehensive global coverage of available, marketed, and pipeline Acute Kidney Injury therapies in various stages of clinical development, major pharmaceutical companies are working to advance the pipeline space and future growth potential of the Acute Kidney Injury pipeline domain.
Key Takeaways from the Acute Kidney Injury Pipeline Report
Over 30+ Acute Kidney Injury pipeline therapies are in various stages of development, and their anticipated acceptance in the Acute Kidney Injury market would significantly increase market revenue.
Leading Acute Kidney Injury companies developing novel drug candidates to improve the Acute Kidney Injury treatment landscape include GUARD THERAPEUTICS, Rénibus Therapeutics, and others.
Promising Acute Kidney Injury pipeline therapies in various stages of development include RMC-035, RBT-1, and others.
Acute Kidney Injury Overview
Acute kidney injury (AKI), also known as acute renal failure (ARF), is a sudden episode of kidney failure or kidney damage that happens within a few hours or a few days. AKI causes a build-up of waste products in your blood and makes it hard for your kidneys to keep the right balance of fluid in your body. AKI can also affect other organs such as the brain, heart, and lungs. Acute kidney injury is common in patients who are in the hospital, in intensive care units, and especially in older adults.
There are rarely any symptoms until the condition has progressed to a late stage. However, if there are symptoms, the most common one is a decrease in urine output. Doctors diagnose acute kidney injury by measuring the level of creatinine in the blood. (Creatinine is a chemical waste product removed by the body entirely by the kidneys. If the kidneys are not working properly, there will be an increase in levels in the blood).
Common risk factors include diseases that affects blood flow to the kidneys or causes kidney damage such as chronic kidney disease, impaired left ventricular systolic function, advanced age (over 75 years old), diabetes, and dehydration. Other risk factors include time spent in a heart-lung machine, use of an intra-aortic balloon pump, the need for blood transfusions and hemodilution. Treating AKI depends on the underlying cause of the condition. If it is caused by medications, the doctor may ask to stop taking that specific medication. If it's caused by an infection, the doctor may look for ways to treat the infection.
Acute Kidney Injury Pipeline Analysis: Drug Profile
RMC-035: GUARD THERAPEUTICS
Guard Therapeutics is developing RMC-035 (ROSgard), a biological drug candidate that utilizes one of the body's most powerful and universal protections against oxidative stress. RMC-035 is naturally designed to "target" the kidneys, allowing RMC-035 to be present when the kidneys are attacked by oxidative stress. Treatment with RMC-035 has the potential to save lives and prevent the risk of both acute and chronic kidney damage with subsequent serious consequences due to impaired kidney function, such as life-sustaining dialysis treatment. Currently, it is in Phase II stage of clinical trial evaluation to treat Acute Kidney Injury.
Discover more about the emerging Acute Kidney Injury drugs @ Acute Kidney Injury Treatment Drugs
Acute Kidney Injury Key Companies
GUARD THERAPEUTICS
Rénibus Therapeutics
Acute Kidney Injury Pipeline Therapies
Acute Kidney Injury Pipeline Therapeutics Assessment
By development stage
By product type
By route of administration
By molecule type
By MOA type
Scope of the Acute Kidney Injury Pipeline Report
Coverage: Global
Key Acute Kidney Injury Companies: GUARD THERAPEUTICS, Rénibus Therapeutics, and others
Key Acute Kidney Injury Pipeline Therapies: GS 248, Treprostinil, and others
Find out more about the Acute Kidney Injury treatment options in development @ Acute Kidney Injury Clinical Trials
Table of Contents
1. Introduction
2. Executive Summary
3. Overview
4. Pipeline Therapeutics
5. Late-Stage Products (Phase III)
6. Mid-Stage Products (Phase II)
7. Early Stage Products (Phase I/II)
8. Preclinical Stage Products
9. Discovery Stage Products
10. Therapeutic Assessment
11. Inactive Products
12. Collaborations Assessment- Licensing / Partnering / Funding
13. Unmet Needs
14. Market Drivers and Barriers
15. Appendix
16. About DelveInsight
Other Trending Reports:
Asthma Diagnostic Devices Market
Chronic Obstructive Pulmonary Disease Treatment Devices Market
Airway Management Devices Market
Cough Assist Devices Market
Pulse Oximeters Market
Hemodialysis Catheter Devices Market
About DelveInsight
DelveInsight is a leading Business Consultant and Market Research firm focused exclusively on life sciences.
Contact Us
Kritika Rehani
info@delveinsight.com
+1(919)321-6187
Media Contact
Company Name: DelveInsight Business Research LLP
Contact Person: Kritika Rehani
Email: Send Email
Phone: 9193216187
Address:304 S. Jones Blvd #2432
City: Las Vegas
State: Nevada
Country: United States
Website: https://www.delveinsight.com/