Christian Care Ministry/Medi-Share, the nation's leading health care sharing ministry operates in all 50 states and has employees across the nation with an office in Colorado Springs. Christian Care Ministry/ Medi-Share is proud to join the Community Roundtable and 30 other non-profits in the fight against poverty in the Pikes Peak region.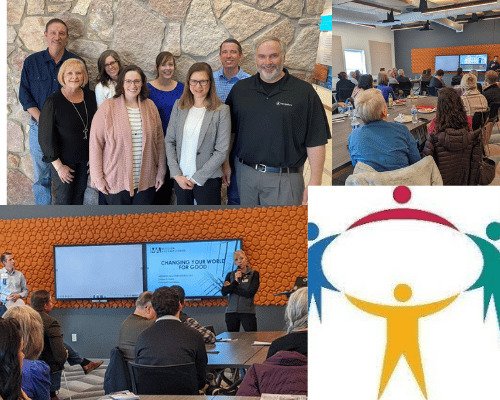 Colorado Springs, CO – In January 2023, Christian Care Ministry – the nation's most trusted sharing ministry, joined other non-profits like Focus on the Family and Compassion International to help make a difference in the lives of those who struggle financially. Also in attendance was Jeff Anderson with Congressman Doug Lamborn's office.
Christian Care Ministry's vision is to transform society through the Biblical model of sharing. One way Christian Care Ministry lives that out is by supporting those in poverty. One of Christian Care Ministry's Outreach partners is Christian Community Health Fellowship. CCHF is a nationwide non-profit that brings the gospel through healthcare to the poor and marginalized.
"It was an honor to represent CCM at the Community Round Table to discuss a topic dear to my heart; 'End Poverty in the Pikes Peak Region.' We are all busy with our own efforts of ministry for Christ, however, we are also responsible to change the atmosphere in our own communities through collaboration and networking to meet tangible needs. I'm proud that CCM wants to continue to join this effort with other non-profits in the area." – Kim Mahoney, Christian Care Ministry Clinical Nurse Navigator and representative
Christian Care Ministry employees are given 24 hours per year of paid time off to volunteer in their community. Many in the Colorado Springs office choose to use those hours with the non-profits represented at the Community Roundtable.
When a community comes together change can and will take place.    
About Christian Care Ministry/Medi-Share
Christian Care Ministry (CCM), a not-for-profit 501(c)(3) organization, based in Melbourne, FL, operates the Medi-Share program, a Christian healthcare sharing organization that provides an affordable alternative to health insurance for faith-based consumers. Entering its 30th year of sharing, Medi-Share, serves nearly 400,000 members across America and has earned accreditation from the Independent Healthcare Sharing Accreditation Board.
For more information about Christian Care Ministry, visit: https://mychristiancare.org/pre
Media Contact
Company Name: Christian Care Ministry
Contact Person: Debbie Ryan
Email: Send Email
Phone: 800-264-2562 x2233
Country: United States
Website: https://www.medishare.com