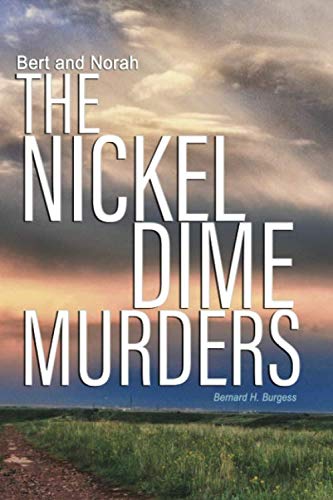 "Bert and Norah: The Nickel Dime Murders" by Bernard H. Burgess is available worldwide. This 300-page mystery novel, which has achieved bestseller status in Amazon's Psychic Mysteries and Crime Action & Adventure categories, follows Bert and Norah Lynnes, a husband and wife duo who operate B and N Investigations. Along with their coyote-wolf hybrid, Missy, the couple has built a reputation for finding missing people, empowered by Missy's incredible tracking and Norah's psychic abilities.
As their investigative work draws them to a series of brutal murders, Bert and Norah realize that they are the only people with the skills to catch the killer. The resulting investigation brings them on a multi-state hunt, unraveling the grisly details of each crime as they bounce around the sparsely populated Upper Midwest, including Wyoming, Kansas, Montana, Colorado, and South Dakota. As they trail the killer, sometimes informed only by Norah's visions, the shocking truth begins to emerge. The beauty of American landscapes and the sweetness of Bert and Norah's love for one another combine with the chilling darkness of the crimes in Burgess's writing, bringing readers into a vivid world of twists, turns, and unexpected revelations. The first installment in a 5-part series of "Bert and Norah" novels, this compelling story explores mysticism, murder, romance, social issues, and beyond in a unique narrative that keeps readers guessing all the way up to the final page!
Bert and Norah: The Nickel Dime Murders (ISBN: 9780692134122) can be purchased through retailers worldwide, including Barnes and Noble and Amazon. The paperback retails for $10.99. Review copies and interviews are available upon request.
About the book:
Murder sets the stage for a mystery woven around the undying love between a husband and wife private investigation team. Set under the wide open skies of the upper Midwest, the beauty and serenity of this expansive country is in stark contrast to the dark side of humanity being pursued by B and N Investigations. Norah's psychic abilities are combined with Bert's intuitive logic and the nose of their exceptional tracking animal, a coyote-wolf hybrid named Missy. Their combined skills make them unusually gifted at finding missing people. However, unusual circumstances draw them into the wake of a cunning and brutal killer. They begin to realize that they alone possess the unique skills to bring this case to a final and suspenseful conclusion. Can their love triumph over a killer's hatred? Don't be surprised if you say, "Wow, I did not see that coming!"
About the author:
Bernard H. Burgess is the oldest son of West Nebraska cattle ranchers. He entered the Air Force after graduating from the University of Nebraska and retired as a Command Pilot with the rank of Lieutenant Colonel. He was a freelance writer in Wyoming and a private investigator in Arkansas. Bernard lives in Fox, Arkansas, near daughter, Heidi, and family.
Media Contact
Company Name: MindStir Media LLC
Contact Person: Jen McNabney
Email: Send Email
Phone: 800-767-0531
Address:1 New Hampshire Ave Suite 125
City: Portsmouth
State: NH
Country: United States
Website: https://mindstirmedia.com/