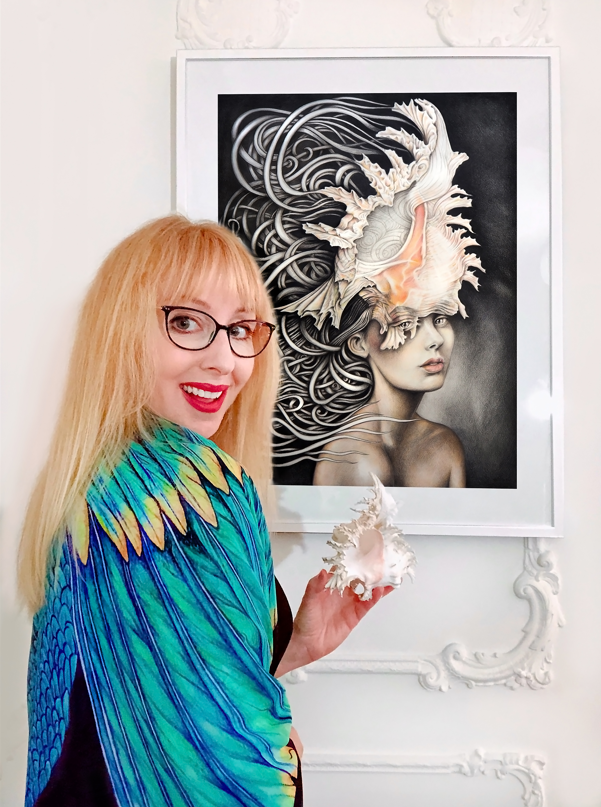 Leading contemporary artist and founder of Carmen Delprat Art, Carmen Delprat, is proud to announce the latest development in her art business, which includes a unique fusion of fine art, surrealism, symbolism, and fashion.
Newcastle NSW, Australia – The Carmen Delprat Art Collection is renowned for its stunning portraits merged exotic sea shells, designed to ignite sensory perception, intuition and imagination. According to Carmen, shells have a calming vibration, they remind us of the ocean and that recollection can be very relaxing. It is believed that the hard texture of the shell symbolises a strong mindset. Since the seashell does not dissolve in water and it is resistant against the tides of the ocean, the symbolic value of shells relates to having strength and a mentality that does not give up under pressure.
The Shell Portrait artworks represent the spirit of femininity, emitting grace and strength. Each piece is rendered in coloured pencil and merges several styles of fine art, surrealism, and symbolism. The beauty of the shells varied hues, shapes and textures combine with our own nostalgic memories of collecting shells along the beach bridges the viewer with the artwork creating a visual dialogue, one that is both soothing and strong. Carmen hopes her artworks stimulate feelings of interconnectivity, rejuvenation and well-being. Through her work, Carmen captures an allegory of the natural world around her and transforms it into dream like interpretations with vivid colour, imagination and tranquility.
Carmen Delprat Art's fashion accessories come in a range of styles, sizes, and materials. The designer art scarf collection "The Art Becomes You", is an exclusive collection featuring selected original artwork screen printed onto signature art scarves made of lightweight poly chiffon and pure silk.
Carmen Delprat Art is focused on being more than just a collection of beautiful and visually stunning works of art – it's a brand that seeks to inspire and create a feeling of luxury with its refreshingly original designs. Whether it's the exquisite shell and female portrait artworks or the signature art scarves, Carmen Delprat Art products are designed to elevate one's mood, enhance one's spirit and enjoyment of all things beautiful in life.
Carmen's company has achieved several accolades over the years including exhibiting her artwork in world-famous magazines such as London's Vogue House of Interiors, House & Garden, Tatler, Vanity Fair, Abode2, Wired, and Life and she has recently exhibited at the Wonderland Art Festival in Sydney.
Looking towards the future, the company's founder plans to expand her fashion accessories into exclusive cushion designs and long robes, continuing to pair art with luxury to create unique and special experiences.
Carmen Delprat's art collection and fashion accessories are designed to help people connect with their deeper emotions and elevate their mood. The artworks and fashion accessories offer timeless aesthetics, sustainable luxury, and exclusive designs to make one feel good and empowered. With this new fusion of fine art, surrealism, symbolism, and fashion, Carmen Delprat Art aims to create a harmonious blend of beauty and functionality in its products.
Media Contact
Contact Person: Carmen Delprat
Email: Send Email
City: New Castle
State: NSW
Country: Australia
Website: https://www.carmendelpratart.com/