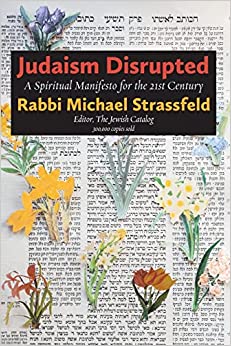 "Rabbi Strassfeld (A Book of Life) calls for a seismic shift in Jewish practice in this thought-provoking treatise… Strassfeld's vision of Judaism is compassionate and flexible, and he's frank about the challenges the religion faces without resorting to apocalyptic prognostications about its survival. Those looking to revitalize their Jewish identity should pick this up." – Publishers Weekly Booklife
On The 50th Anniversary Of The Best-Seller, The Jewish Catalog, Author Rabbi Michael Strassfeld Follows His Masterpiece Up With A New Look At Why & How We Need To Take A Refreshing And Vibrant Approach To Judaism…
The American Jewish experience is placed under a microscope in a new, thought-provoking book by a rabbi who is also celebrating the 50th anniversary of the legendary, best-selling book, The Jewish Catalog, which has sold over 300,000 copies since he edited the 1973 edition.
Rabbi Michael Strassfeld, the author, retired from the pulpit after 25 years of serving as a Reconstructionist rabbi in New York City. He grew up in Boston in an Orthodox home. His father was a rabbi who was born in Ukraine and raised in Germany until his immediate family left a few years before World War II. The rest of his family was murdered in the Holocaust by the Nazis. Strassfeld grew up with the burden of knowing Judaism was always under threat from the outside world.
Today, he believes it is under a different threat, one from within. A few generations removed from the Holocaust, America has become less religious across all religions, and houses of worship struggle to keep membership and stay afloat. Fewer people feel engaged with their faith.
"This book – Judaism Disrupted: A Spiritual Manifesto for the 21st Century (February 2023, Ben Yehuda Press) – is my attempt to answer a question: Why bother?" says Rabbi Strassfeld. "I wrote it from the perspective of someone who has had an evolving commitment to Judaism over the course of my life. I became a rabbi at the age of 41, but have always been involved in Jewish life. From the Orthodox world in which I grew up, I now embrace a Judaism that draws upon the richness of the tradition as well as insights drawn from the contemporary moment."
Judaism Disrupted is sure to stir some heated discussions. It seeks to spark a conversation that embraces the essence of Judaism, however it is practiced — and to re-invigorate it. The book provides a framework for a new paradigm and helps the reader explore the evolution of an ancient faith. It shows how it can be reinvigorated and practiced anew.
Here is an interview with Rabbi Strassfeld:
1. What inspired you to write Judaism Disrupted: A Spiritual Manifesto for Our Time? Rather than feeling discouraged by the increasing numbers of Jews that are disaffiliated with Judaism, I believe that the disrupted world that we are experiencing provides an opportunity to re-think Judaism for the 21st century. A re-imagined Judaism has much to offer in these challenging times. Instead of understanding Judaism through the lens of old-fashioned rules and rituals, I was inspired to create a series of practices that can enrich our journey through life. These practices can enable us to live lives of meaning and purpose and encourage us to reflect on such qualities as generosity and equanimity and such values as caring for others in need, about our society and for our planet.
2. Why do you feel people should listen to you, the son of an Orthodox rabbi, as one who grew up to be a Reconstructionist rabbi? My personal story reflects the experience of many Americans who were born into one tradition or started in one career and over time their lives have gone in new directions. If previous generations explored the frontier by going west, Americans now explore the frontier of their inner landscape. Being a part of a number of denominations and movements in Jewish life has given me a broader perspective on what is possible. I was one of the editors of the best-selling Jewish Catalog, which provided resources for living a Jewish life. The format of a catalog enabled the reader to pick and choose what aspects of Jewish living to participate in and which not. In many ways, my Jewish journey has taken me from the question we addressed in the Catalog: "How to be Jewish," to the deeper question: "Why bother?"
3. You are proposing a re-invention of how we should see the Jewish religion. Why do we need a fresh approach? The modern world has sharply challenged the place and purpose of religion. In Judaism, this has undercut such ideas as a God who rewards and punishes, the Torah/Bible as the unchanging word of God, and the tradition as a set of laws to be obeyed. If liberal Jews no longer believe these doctrines, what then? I suggest that Judaism be seen as a practice in which people engage because they find it spiritually valuable. I reject the paradigm of Rabbinic Judaism that divides the world into dualities—Jews and non-Jews, women and men. Instead, I seek a Judaism that embraces an evolving tradition that is inclusive and is without borders.
4. How did you come to share what you feel is the basis for a new Judaism? I have been involved in Judaism for my whole life. That involvement changed from the world of Modern Orthodoxy in which I grew up to the Jewish counterculture of the 60's and 70's and later an involvement in Jewish spirituality. I kept asking myself one fundamental question: what am I seeking and what does the Jewish community need? I decided to write a book that would strive to imagine a Judaism for the 21st century. I challenged my ideas and beliefs. I looked for sources both in the tradition and outside it. As challenging as these times are, it also feels like it is a time for creative ferment rather than clinging to old ways of doing things: hence the title Judaism Disrupted.
5. Your book is about taking Judaism, as it is being disrupted by the ever-changing world around it, and asking others to engage in a renewed examination of the tradition. Why? We live in disconcerting times. Everything is changing rapidly. Judaism Disrupted offers wisdom and practices to help us navigate a world that seems to have few directional signs. In such times, a wisdom tradition that is both rooted in the past but also adaptive to the present is an essential traveling companion. The ongoing 3000-year discussion by the Jewish people of the meaning of life is meant to help guide us in the present– not to preserve the past. The Jewish people have faced many disruptions over the course of its long history. Sometimes we have struggled to survive. At others, the disruption was correctly perceived as an opportunity to chart new paths into the future.
6. Can we experience a break with the past while simultaneously reconnecting in a new way to that past? It is traditional to read the Torah from Genesis through Deuteronomy during services each year. Why? The text remains the same but the context is always different. Each of us is a different person than last year and the larger context of the world is different. The process has always been striving to see what the Torah might be saying to us at this moment, but also seeing what we bring new to the Torah from our understandings and experiences. As long as we place ourselves in this dialogue between text and context, we can innovate and still be true to the past.
7. We are upon the 50th anniversary of the classic, best-selling book that you edited, The Jewish Catalog. This book, which sold over 300,00 copies, answered questions on Jewish celebrations, ceremonies, customs, and rituals. Has a lot changed since its publication in 1973? When we edited the first Jewish Catalog, the resources for how to live a Jewish life were inaccessible to many Jews. Mostly, they only existed in codes of Jewish law in Hebrew. The sub-title of the Catalog was "a do-it-yourself kit." Since then, the internet has made available all the how-to information you could ever need. There is a different "how" question now: How can I find meaning in my overly wired and busy life? How can I really wake up in the morning and set a simple intention for my day? How can I have a practice around food that leads to satisfaction and health? How can I live a life of meaning?
8. Why do you say the contemporary challenge is the rejection of the paradigm of rabbinic Judaism? Rabbinic Judaism has been the major form of Judaism for the last 2000 years. Its central paradigm was to see the world divided between pure and impure, Jew and non-Jew, the permitted and forbidden. It emphasized dualities, which often led to hierarchy such as men having more religious roles than women. We live in a time that seeks to be inclusive rather than exclusionary. We believe in equal rights and democracy. We seek to create an open society. This does not mean there is no difference between good and bad. However, it does mean a Judaism that starts with the principle that all human beings are created in the image of God.
9. You developed 11 core principles for Jews to examine, embrace, and encourage others. How did you narrow down all of the teachings, commandments, and traditions of a faith of thousands of years to these 11 principles? I think people can feel overwhelmed by all the texts and teachings of Judaism. The rabbis themselves discuss whether the tradition can be summarized in a number of principles. One opinion is "Love your neighbor as yourself" sums it all up. I thought I would have ten principles because of the ten commandments, but I felt the 11th principle was necessary because it was about community. Judaism isn't about an individual achieving nirvana. The core principles are a way to summarize the essential aspects of Judaism that need to be translated into specific practices. For me, principles, like awareness, social justice, and holiness are the essential building blocks of Judaism.
10. How does one find spirituality in the everyday life? The concept of holiness distinguishes Judaism as a spiritual practice rather than just an ethical system. The components of holiness include an underlying unity to the universe; that each person is an image of God; and that life has meaning, all of which serve as motivations to strive to do good in our world. It is about taking care of those on the margin of our society. It is also about the daily interactions with the people with whom we live and work. Holiness in this under-standing is not about withdrawing from the world and its temptations, but rather seeing the potential in every interaction to hear what is being said, and to choose the generous response.
11. You say Judaism is about freedom, awareness, and life. So why does a tradition that has so much to offer now, failed to speak to so many of us? I think we have failed to present a Judaism that feels connected to the present instead of connected only to the past. A turning point in researching my book was when I came across a teaching of a Hasidic master of the 19th century (the Sefat Emet) which urges us not to think of the 613 commandments as anything but advice on how to live freely. All the commandments are meant to point us to the ways we can be free—free from being overly attached to material things, free from being envious of what everyone else has, or free from unnecessary anxieties. The goal is to travel through life as unencumbered as possible.
For more information, please consult: www.michaelstrassfeld.com
Media Contact
Company Name: Media Kit Buzz Inc.
Contact Person: Brian Feinblum
Email: Send Email
Phone: 9144622038
Address:23 London Terrace
City: New Rochelle
State: NY
Country: United States
Website: www.bookmarketingbuzzblog.blogspot.com