Leading the Way in Mobile Public Interaction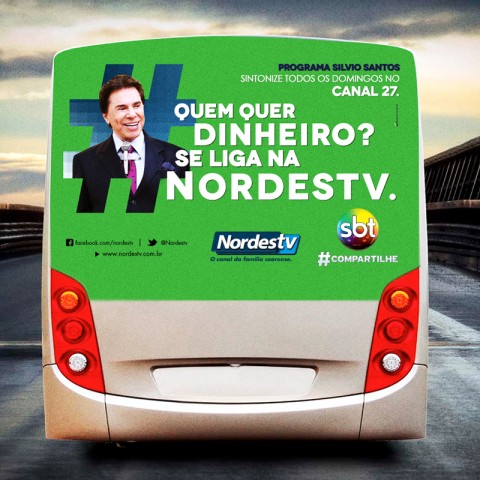 ViaOutbus, the premier supplier of bus advertising in the North and Northeast regions, continues to set the standard for reaching the public on the move in major cities. With an extensive network covering the entire region, ViaOutbus provides unparalleled opportunities for businesses to engage with their target audience through innovative and impactful advertising solutions.
Introducing Busdoor and Backbus: Elevating Advertising Creativity
ViaOutbus takes pride in introducing two dynamic advertising options that promise not just visibility but an unforgettable visual impact:
Busdoor: Transforming the rear window of buses into a canvas for creativity, Busdoor advertising captivates passersby and creates a lasting impression. This unique format allows businesses to engage with the public in a way that's both eye-catching and memorable.
Backbus: Going beyond conventional advertising, Backbus covers the entire rear of the bus, providing advertisers with a massive canvas to showcase their brand. This larger-than-life format opens the door to a myriad of creative possibilities, ensuring that your message stands out in the bustling urban landscape.
Busdoor-Backbus Combo: For those seeking the best of both worlds, the Busdoor-Backbus combo offers a comprehensive advertising solution that maximizes visibility and impact. With these versatile formats, ViaOutbus empowers businesses to craft campaigns that leave a lasting imprint on the minds of their target audience.
Busdoor, Backbus, Backseat Combo: Maximum Impact
For those seeking the ultimate advertising trifecta, the Busdoor-Backbus-Backseat combo offers a comprehensive and integrated solution. This powerful combination ensures that brands make a lasting impact on the diverse audiences encountered throughout the journey.
ViaOutbus continues to be the go-to partner for businesses looking to make a statement in the dynamic advertising landscape of the North and Northeast. For media inquiries, please contact Viaoutbus at the provided email address.
About ViaOutbus:
ViaOutbus is the leading supplier of bus advertising in the North and Northeast regions, providing businesses with innovative and impactful solutions to connect with the mobile public. With a comprehensive network covering major cities, ViaOutbus offers advertising options such as Busdoor and Backbus, ensuring maximum visibility and engagement. For more information, visit ViaOutbus Website.
Media Contact
Company Name: Viaoutbus
Email: Send Email
Country: Brazil
Website: https://viaoutbus.com.br/