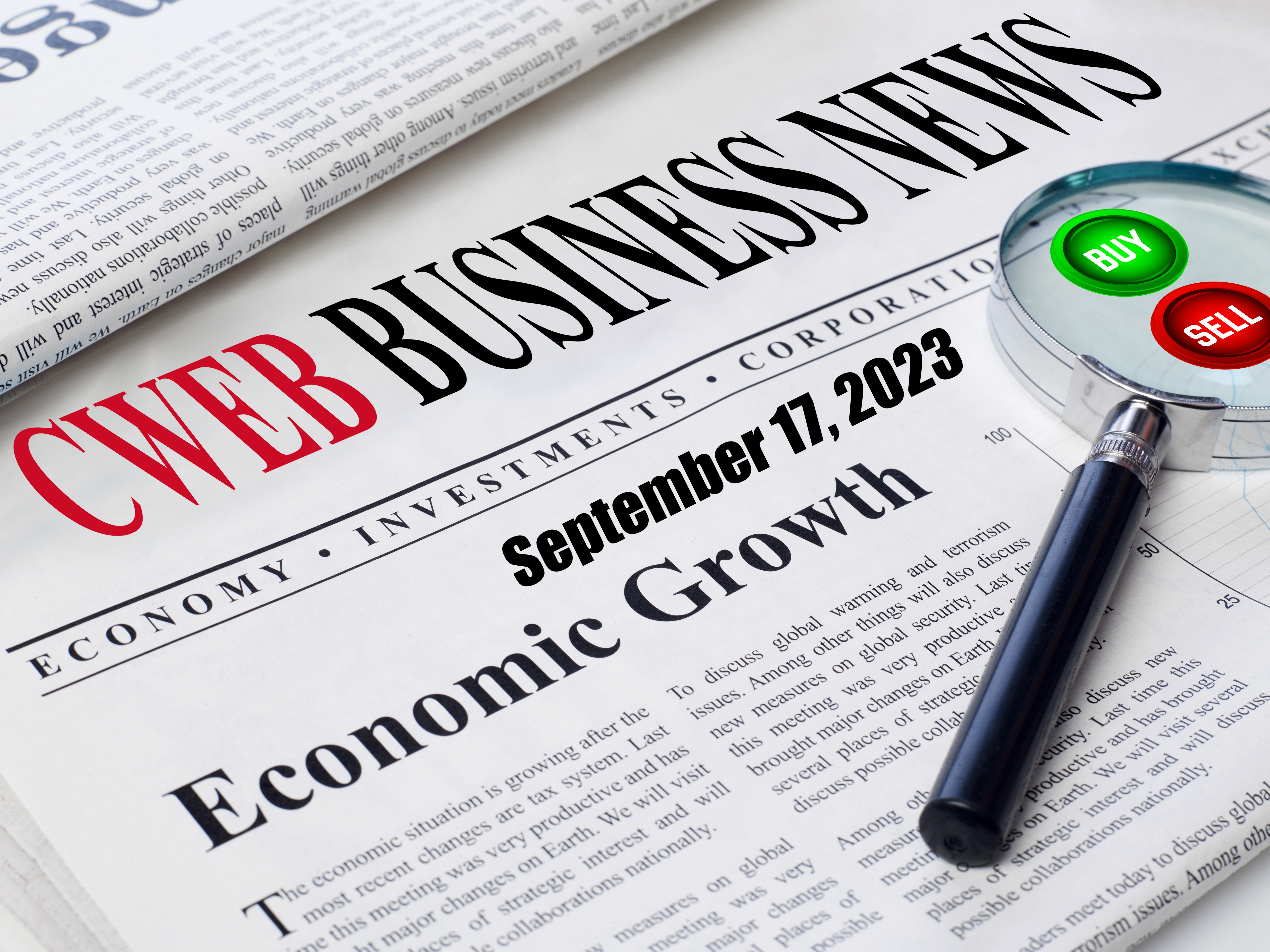 CWEB the American multinational media news company, has published its latest review of news for October 4, summarizing the important events and highlights from across industries and around the world.
The following are the main highlights as reported in the review:
Last week, mortgage rates in the United States reached 7.5% for the first time since November 2000, and homebuyer applications fell to a multi-decade low. In the week ending September 29th, according to Mortgage Market Report, the contract rate on a 30-year fixed mortgage increased by 12 basis points, the most since mid-August, to 7.53%.
On Tuesday, the world's leading automakers announced an increase in U.S. sales of new vehicles for the third quarter, thanks to strong consumer demand for their newest models and increased production. Demand for GM's pickup trucks, inexpensive crossover SUVs, and electric vehicles helped the company score a 21% increase in U.S. sales to 674,336 vehicles, continuing the company's successful year.
Payroll processor ADP announced on Wednesday that private sector companies in the United States added an estimated 89,000 jobs in September, a significantly smaller amount than predicted and possibly indicative of a sharp retreat in the labour market.
After Saudi Arabia and Russia stated they would maintain voluntary supply cuts to boost the market, an OPEC+ ministerial panel that convened on Wednesday made no modifications to the group's oil output policy.
KeyBanc Capital Markets Inc. downgraded Apple Inc., saying that the company's stock is overvalued since iPhone sales growth is expected to decline.
Spotify has partnered with major publishing houses to give its users access to free audiobooks in an effort to compete with Amazon in the e-book business. As of Tuesday night, the business announced that paying Spotify customers in the UK and Australia would be able to listen to 15 hours of audiobooks each month at no extra cost.
Taco Bell has reinstated the Taco Lover's pass. On Tuesday, the popular taco stand announced the reintroduction of its taco subscription service, which allows subscribers to enjoy one taco each day for a set monthly charge. For $10 a month, customers may receive a taco delivered to their door every day for the following 30 days. Subscribers can select any of the tacos available at the restaurant.
After promising findings in an early to mid-stage study, Moderna announced on Wednesday that its combo vaccination targeting Covid and the flu will move to a final stage trial in individuals age 50 and above this year.
To comply with new regulations in South East Asia's largest economy, the social networking app TikTok is temporarily stopping its online retail operation in Indonesia. The administration of the country claims these rules would assist safeguard both traditional and internet stores in the country.
On Wednesday, Uber said that its Uber and Uber Eats apps would begin supporting return package shipment via mail carriers. The apps, which were previously only used for ride-hailing and food delivery, now allow users to send up to five items at once for a fixed charge of $5, or $3 for Uber One members, using the "return a package" feature. Deliveries to the nearest UPS, FedEx, or USPS facility will be made by the drivers.
In addition to recent price-hiking actions like getting rid of the $10 basic plan and cracking down on password-mooching, Netflix aims to increase the cost of its ad-free subscription tier after the actors' strike ends.
DoorDash is experimenting with a service that will reward customers for ordering food delivery. The company is branching out to increase user engagement and restaurant profits after making its mark as a restaurant delivery service that has now expanded into the grocery and convenience store categories.
On Tuesday, Krispy Kreme announced that it was considering selling its Insomnia Cookies division in order to refocus on its core doughnut business. The firm announced Tuesday on CNN that seven San Francisco-area Starbucks would be closing on October 22.
Ripple, a cryptocurrency firm, announced on Wednesday that it has secured a major payments institution license in Singapore, a significant development in the company's plans to expand its operations throughout the Asia-Pacific region.
LinkedIn has released a suite of OpenAI-powered AI solutions for education, employment, promotion, and revenue generation. The social platform has been gradually implementing a number of AI-based features across its product line, and a spokeswoman tells me that it made $15 billion in revenues last year.
Stocks to watch with positive momentum and Buy Rating:
Sundial (SNDL), Tesla (TSLA), Groupon (GRPN), Chase Bank (JPM), Microsoft (MSFT), GOOGL, eBay, Apple (AAPL), Pay Pal (PYPL), UBS, Walmart (WMT), Amazon (AMZN), Facebook (META), Carnival Corporation (CCL)
Read the newsletter online: https://www.cweb.com/cweb-news-summarized-business-and-stock-newsletter-october-3-2023/
Check out the latest news and announcements at CWEB: https://www.cweb.com
About CWEB.com
CWEB is an American multinational media news company. CWEB is primarily involved in the news, media, blogs and entertainment industries, including free forums, classifieds and job postings. CWEB reports breaking news, celebrity, entertainment, sports, politics, finance, stock market and business news.
Facebook: https://www.facebook.com/cwebmedia
Instagram: https://www.instagram.com/cweb/
Twitter: https://twitter.com/cweb
YouTube: https://www.youtube.com/c/cwebmedia
TikTok: https://www.tiktok.com/@cwebnews
Media Contact
Company Name: CWEB
Contact Person: Rachel Cohen
Email: Send Email
Phone: (310) 990-0009
Address:PO BOX # 12404
City: Marina Del Rey
State: California 90295
Country: United States
Website: https://www.cweb.com/