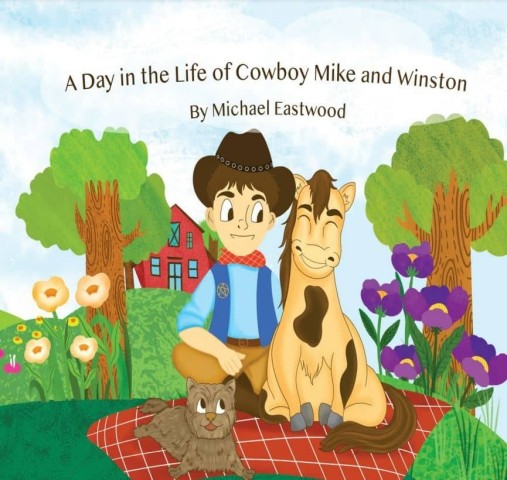 Michael D. Eastwood is a man with many feathers in his hat; he is a successful businessman and has also stepped into the world of literature with a refreshing series. A Day in the Life of Cowboy Mike and Winston is a children's book series about the day-to-day adventures of Cowboy Mike and Winston, his pet pony.
Eastwood's children's book series was not a random idea; he was inspired by his passion for philanthropy and his pet pony Winston. His unwavering love for positively impacting people's lives led him to start Pony 4 Precious: a nonprofit organization raising awareness about miniature ponies among children.
What started as a personal mission to help his daughter learn and care for Winston has now become a worldwide quest to educate children and bring joy to their lives. Pony 4 Precious is an all-in-one online website with multiple resources to educate children about miniature ponies. They can also learn about life on a farm and how to care for ponies.
Michael also uses his literary gift to spread knowledge and insight among children through his books, CEO Stories (Children employed by owners), and the Cowboy Mike and Winston collection. By narrating the quirky banters and wholesome interactions between Cowboy Mike and Winston, he wants children to adopt and care for their pets.
In a statement, Michael D. Eastwood said, "Living in the city should not stop children from learning valuable lessons that only animals can teach us. I want the little ones to learn about selfless bonds, courage, and promises as a part of our Cowboy ethics at Pony 4 Precious."
Pony 4 Precious is a cause close to his heart because it is transforming the lives of future generations through books and animals. One of the key objectives of this organization is to provide scholarships for teenagers who want to pursue higher education after high school, regardless of where they live. The organization has planned to collaborate with different schools to make education possible for everyone. Michael donates all his book proceeds to his charity, Pony 4 Precious.
The children's book series Cowboy Mike and Winston aims to spread joy, hope, and love among children worldwide. Like the selfless bond between the main characters, Michael D. Eastwood also works consistently for the children's Welfare at Pony 4 Precious.
Author Profile
Michael D. Eastwood is a renowned author, known for his collection of five children's books, and a prosperous entrepreneur. He initiated his journey in writing, motivated by his fervor for the welfare of animals. His literary works have received critical acclaim for highlighting the plight of ponies and imparting lessons on responsibility, bravery, and altruism to children.
In addition to his literary accomplishments, Michael is the proprietor of a real estate brokerage firm, an eloquent public speaker, holds positions on the boards of various companies, and is a Master Coach. All the proceeds from the sales of his books are generously donated to the Pony 4 Precious charity. By purchasing Michael Eastwood's books, you are supporting Pony 4 Precious in their mission to aid children. Learn more about this noble cause at Pony 4 Precious.
Website: www.michaeldeastwood.com
YouTube: https://www.youtube.com/@pony4precious604
Instagram: https://www.instagram.com/ceostories2020/
Amazon: https://amzn.to/3iW6JgR
Barnes and Noble: https://www.barnesandnoble.com/s/cowboy%20mike%20and%20winston
Media Contact
Company Name: Book Author Michael Eastwood
Contact Person: Michael Eastwood
Email: Send Email
Address:231 N Marina St.
City: Prescott
State: Arizona – 86301
Country: United States
Website: www.michaeldeastwood.com