When some people still complained about traffic jam in the crowd, some other ones have crossed the streets freely by Fosjoas electric scooter V9. What an enviable way of travelling! Fosjoas V9 has been the most portable, convenient and eco-friendly vehicle so far. Owing to its fashionable appearance and vibrant performance, Fosjoas V9 has become the annual intelligent product. Instead of taking public vehicles or driving private cars, riding a Fosjoas intelligent scooter V9 seems to be more interesting and vibrant.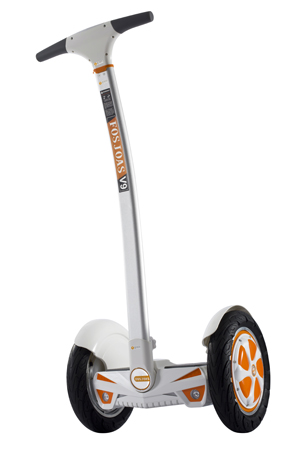 Fosjoas intelligent scooter V9 adopts the unique face of Lamborghini, which makes it look so fashionable. The simple and smooth curves stratify the human engineering. The colors of white, silver and orange are used in designing V9. Fosjoas V9 also is added a joystick which is made of aluminum alloy. What's more, Fosjoas industrial designers firstly use front brake lamps in V9. It seems to be more energetic and hi-end with these special designs.
Range always plays an important part in people's outgoings. It uses the ultra-quiet magnetic levitation motor, whose largest capacity is 520wh. This kind of strong motor is light and small as well. In addition, Fosjoas V9 uses the original Sony lithium batteries which are applied to Tesla driverless cars. They're safe and have stable performance. It only takes 90 minutes to reach the full charge of lithium battery. Thus, there are no needs for users to worry about range of Fosjoas self-balancing electric scooter V9.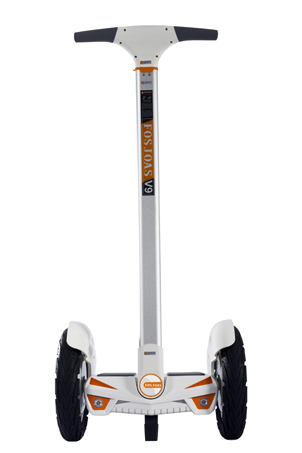 When people own Fosjoas V9, they may behave brighter and more alive in their life. Fosjoas electric scooter V9 brings changes and more choices to users. Instead of waiting and complaining, users can save the time and do other meaningful things with Fosjoas V9. Every one is pursuing the life full of vitality. Riding a Fosjoas V9, they will be closer to their ideal life.
Media Contact
Company Name: MOBEN INT'L (ENGLAND) CO., LTD
Contact Person: Jason
Email: moben@fosjoas.com
Address:Room 707, Block A, Electronic Science & Technology Building, No.2070, Shennan Middle Rd.
City: Shenzhen
State: Guangdong
Country: United Kingdom
Website: http://www.fosjoas.com