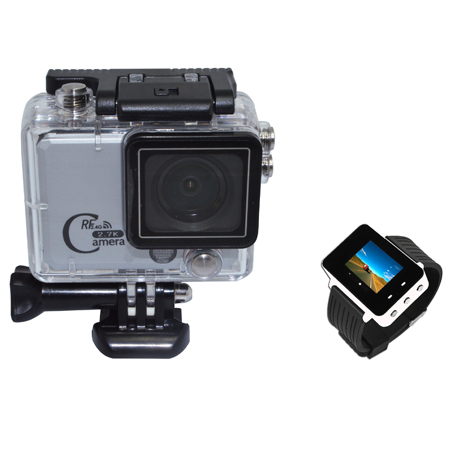 SupremeValue International Co. Ltd. has become the world's first firm to launch a 2.7K action camera. The product is available worldwide. it comes with 2.4G RF remotes that have a screen to boast of. The company has become a pioneer in this field by launching a camera no one else had thought of. They have surely begun a new age of camera production, especially when it comes to live action. Their newest launch is being hailed by critics and customers alike and demands for the product are through the roof. Here are some reasons why the Wifi Action Camera is so great.
First of all, the remote control that comes with the camera will be able to display real time footage for people. Therefore, users will not have to worry about assembling the camera, knowing what angles to go for, how to shoot pictures and the like. With the remote control, one will be able to review whatever they have shot. The camera also boasts of having a very high-end video processing technology named Ambarella A7LA50. The software ensures the high quality of pictures and videos, both, making them incredibly clear and smooth. With this 4k Action Camera, one can hope to get the best shot.
Moreover, when one compares the camers to others that can record underwater, it will emerge the sure shot winner. While typical cameras allow one to shoot only thirty meters underwater, one can shoot up to fifty meters deep in water bodies with the camera's IP68 waterproof technology. The camera has a 64 GB memory card – far more than the typical 32G of other cameras. The camera is one of many X5 Plus products and the firm is willing to produce many such technological triumphs if interest is shown by customers.
The best sport camera in the world also connects with smart watches to allow synchronized video transmission. It can shoot 30/60 images per second and boasts of great accessories which can be used in multiple scenarios. The battery is 1050 mAh rechargeable and removable lithium. Truly, this is in an innovation unprecedented in its spectrum. It comes as no great surprise that the biggest tech giants are sitting up and noticing this small firm.

Video Link: http://www.youtube.com/embed/Fd_ka62dryQ
About Us:
SupremeValue creates high end technological products at affordable prices for customers. They are known for their innovative products that even the most common of customers can buy due to their low prices.
Media Contact
Company Name: Supremevalue International CO.,Ltd
Email: info@supremevalue.com
Phone: 0086-755-89482737
Address:The 2nd Floor, Building NO. 22, Chuangye Road, Zhangbei Industrial Zone, Longcheng Street, Longgang District
City: Shenzhen
State: Guangdong
Country: China
Website: http://www.supremevalue.com/en