Precision Roofing of Southfields, NY, has received GAF's 2014 President's Club Award. A GAF Master Elite(R) contractor since 1998, Precision offers residential and commercial roofing services in NY's Hudson Valley and Bergen County, NJ.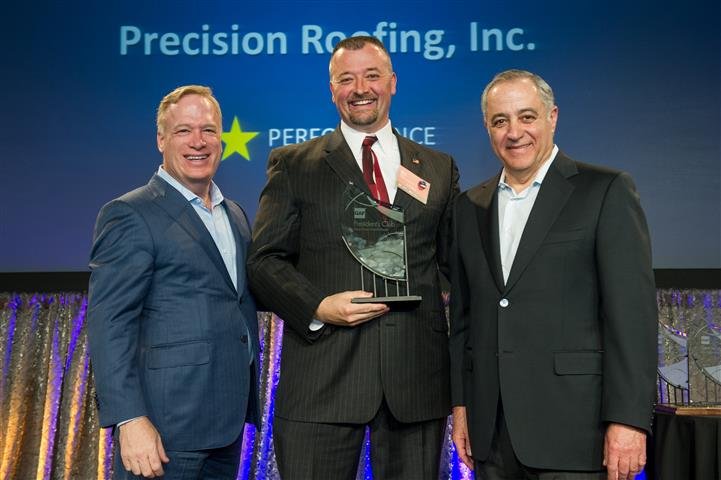 Southfields, NY – September 17, 2015 – Precision Roofing, Inc., of Southfields, New York, has received GAF's most prestigious contractor award: The GAF President's Club Award. This highly coveted award recognizes Precision Roofing as one of the "elite of the elite" residential roofing contractors in the United States.
GAF is North America's largest roofing manufacturer, and only GAF Master Elite(R) Contractors can compete for its President's Club Award. To qualify for this award, a contractor must demonstrate an exceptional level of excellence in their business, especially in the areas of Installation Excellence, Consumer Protection, and Installer Training.
Precision Roofing has been a GAF Master Elite(R) Contractor since 1998. To become a Master Elite(R) Contractor–a status that less than 2% of roofing contractors nationwide have achieved–a candidate must demonstrate proper licensing and adequate insurance, have a proven reputation and show commitment to ongoing professional training.
A customer searching for a roofing contractor wants a professional company that is well recognized and has received positive reviews, according to Nick DeMatteo, founder and owner of Precision Roofing. "We work hard to get those reviews," says DeMatteo. "Prospective customers want to be assured that the contractor knows the ins and outs of the products they're working with, both the strengths and the shortcomings. So they hire a professional roofing company like ours that is capable of doing the work and satisfying the customer."
The increasing ease with which consumers can research a company's reputation is beneficial to a contractor that has a great reputation, such as Precision Roofing. "The ability for people to find us online has been a great asset," states DeMatteo. "People are able to look us up – on our web page, on GAF's website, on Facebook. That gives us a lot of credentials. Customers can also research our A rating on Angie's List and our A+ accreditation with the Better Business Bureau."
Serving exclusively New York's Hudson Valley area and Bergen County in New Jersey, the company prides itself on building partnerships with its customers. "When customers call," says DeMatteo, "we want them immediately to sense that they've found the right company and that we appreciate their business. Because we are a roofing contractor for both residential and commercial properties, we're able to help everyone. Pitched, flat, or slate roof, slate or ceramic tile, composite tile… it doesn't matter. We have the training and the expertise to do it all. Additionally, we're licensed with more than 16 different manufacturers to install their products, so we can offer warranties that other contractors cannot."
Precision Roofing also gives back to the community by sponsoring Little League teams and working with veterans. "A few years back," says DeMatteo, "we put on a roof for an Army veteran in coordination with GAF and Orange County Choppers. We had a lot of fun, and it felt good to contribute in that capacity." The company also participates in GAF's Roofs for Troops program and is a Certified Green Roofer(TM).
Solar is a growing division at Precision; it is the only contractor in the Hudson Valley to offer customers a choice of solar shingles or solar panels. "We're very excited about that; it's a really fast growing market," explains DeMatteo. The company also participates in a certification program with DaVinci for its PVC slate tiles.
Looking forward, the company is "not afraid to grow," concludes DeMatteo. "We're branching out to new products, taking on the solar products. But we also look to reach out to new customers and untapped market segments – and we'll achieve that, because there is no roofing system or situation that we can't handle."
About Precision Roofing
Serving New York's Hudson Valley and Bergen County in New Jersey, Precision Roofing has installed more than 7 million square feet of roofing under every circumstance. Fully insured, Precision also provides asbestos abatement, moisture detection, preventative maintenance, and emergency repairs. Experience separates Precision from the rest; dedication to excellence keeps it there.
For more information, visit:
http://www.precisionroofinginc.com
Facebook: http://www.facebook.com/priroofing
About GAF
Founded in 1886, GAF has become the largest roofing manufacturer in North America. The company's products include a comprehensive portfolio of steep-slope and commercial roofing systems, which are supported by an extensive national network of factory-certified contractors. Its success is driven by its commitment to Advanced Quality, Industry Expertise, and Solutions Made Simple for contractors, specifiers, and property owners alike. In 2011, GAF was the first roofing manufacturer to offer a Lifetime limited warranty on all of its laminated shingles and, in 2012, it introduced the GAF Lifetime Roofing System.
For more about GAF, visit http://www.gaf.com
Media Contact
Company Name: Precision Roofing, Inc.
Contact Person: Nick DeMatteo
Email: officemanager@precisionroofinginc.com
Phone: (845) 351-2009
Address:22 Kerr Lane
City: Southfields
State: NY
Country: United States
Website: http://www.precisionroofinginc.com