From October the 21st to October the 31st, a themed exhibition of Pudong Kiln-Pudong ceramics artworks, hosted by Shanghai art & culture overseeing units and co-organized by Shanghai Mei's yongxing hall ceramics design institute, is being held and opened to the public.
Pudong Kiln-Pudong ceramic artworks, comparing with other renowned Chinese ceramics categories such as Jun wares and Jingdezhen ceramic artworks, are made mainly of the raw materials collected in Shanghai and thus are worthy of the name as Pudong ceramics.
Shanghai is an international metropolis with deep-rooted ceramics cultural origin, yet gradually lost its shine in ceramics development since thousands years ago for many reasons. A great many red potteries, grey potteries, proto-porcelains and firing furnaces unearthed from 3000 years to 5000 years old Shanghai Songze and Maqiao cultural relics sites demonstrate that ceramics craftsmanship was well mastered by Shanghai ancestors in the lost prosperity of ceramics culture.
Since year 2013, Mr. Mei, Guojian, renowned Chinese ceramics arts design master and China national intangible cultural heritage bearer of Tang Dynasty Lushan Jun ceramics, dedicated to the research and development of Pudong ceramics with the strong desire to revive the lost shine of Shanghai ceramics culture.
For the ceramics raw materials, after hundreds of night-and-day visits to Shanghai ancient relics sites and all the Shanghai counties, he collected more than 10 categories of local mineral materials for tests. After hundreds of times of lab analyses of collected raw materials and trial-and-error firing, he finally successfully created Pudong Kiln-Pudong ceramics.
The birth of Pudong Kiln-Pudong ceramics is the exciting result of the modern bold attempts to revive the lost shine of Shanghai ancient ceramics culture.
The main features of 176 exhibited Pudong Kiln-Pudong ceramics artworks are:
Brand new ceramics category – the first ever ceramics artworks made mainly of Shanghai local raw materials.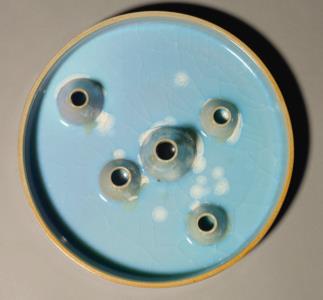 Bluish white glazed plate – Craters shoot through the sea surface
Brand new glaze – vein shaped condensed dew bright yellow glaze, celadon and purple through light yellow glaze, bluish white glaze, classic and unsophisticated violet golden glaze are a breakthrough from the traditional glazes.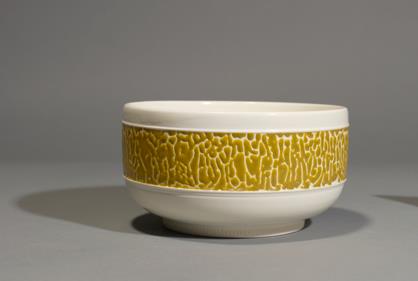 Condensed dew bright yellow glazed bowl
Brand new modeling – the artistic concept behind the artworks modeling is to fuse modern features into traditional style to shape the unique Shanghai ceramic artistic style. Taking the magnolia vase for example, its modeling is the combination of traditional Chinese ceramics modeling and modern sculpture that symbolizes Shanghai Pudong area's cultural openness, inclusion, as well as vigor.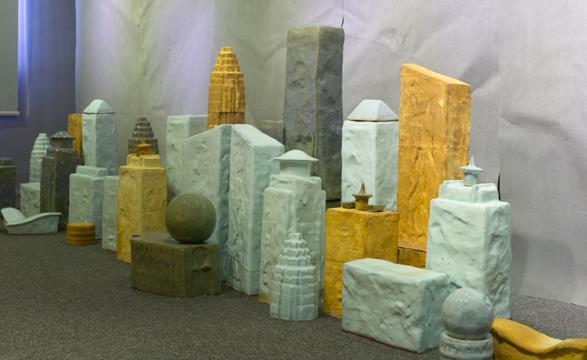 Shanghai Lujiazui skyscrapers in a nutshell
Media Contact
Company Name: Shanghai Mei's yongxing hall ceramics design institute
Contact Person: Tony Mei
Email: Tonymei123@hotmail.com
Phone: 86-13564936618
Country: China
Website: http://www.mgj-ceramics.com