Recently a most interesting coffee maker is hitting the market, named STARESSO
In people's minds, Espresso maker is stereotyped with the length of 14 inches and the width of 18 inches, or much larger. While, Espresso maker with large volume can't meet the majority's demands. For example, Mark, going out often, he hopes for high quality coffee whether in the open air or on a business trip. Jason, a recent college graduate, he wouldn't buy a huge one at a quite high cost putting in his poky room. For the past few years several brands have developed some so-called portable and manual, also light. But it is a pity that the previous mini Espresso maker can't reach the fixed pressure even though it is operated by all the user's strengths, then it's hard to make good espresso with pleased cream or fragrance.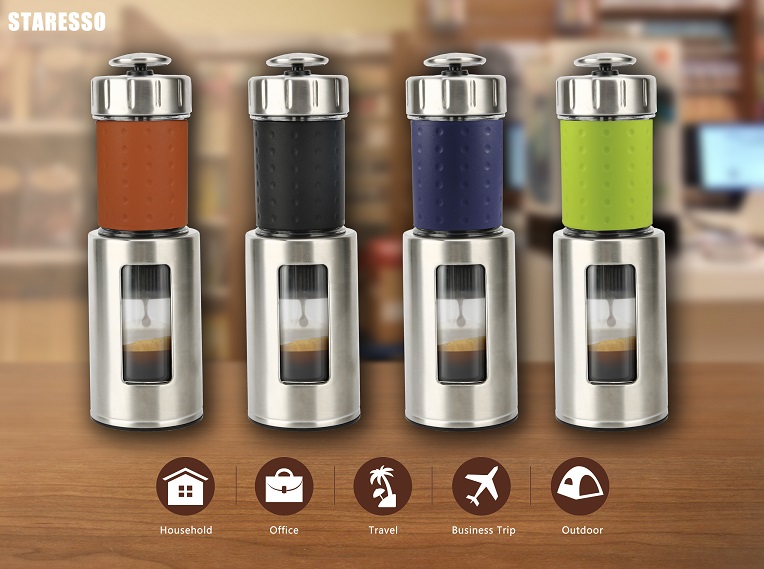 However, the recent emergence of STARESSO is a transform. You can't image that customers can make a cup of pleased espresso by a palm-size facility. The palm-size facility just needs a appropriate strength to reach its fixed working pressure of 15 BAR. Also, the cream and flavor produced by STARESSO gains sufficient acceptance by many professional baristas. Moreover, you would never think that this tiny facility also can make milk foam, so that it can make elegant tasted Cappuccino.
The developer of STARESSO defines it not only as a tiny Espresso and Cappuccino maker. Its functions extends to making enhanced delicate French coffee. Use moderate baked Arabica ground coffee, and increase some water, so you can get a cup of French coffee with slighter cream and stronger fragrance. But some users also think that the taste of this French coffee is stronger than and different from traditional French coffee. Therefore, why not define the enhanced delicate French coffee as a new type of coffee?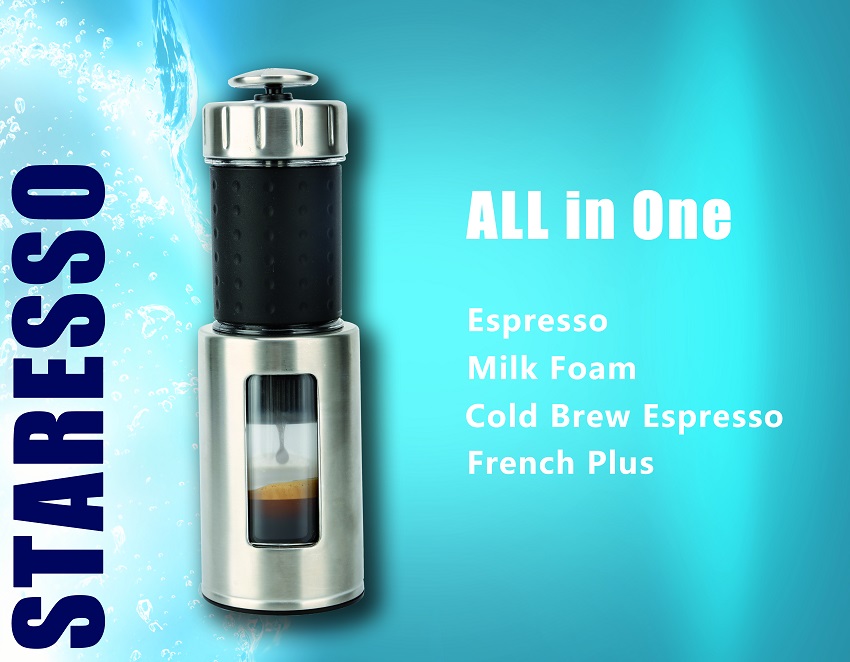 Well, if you think Espresso or the enhanced delicate French coffee is too strong for you, some more wonderful thing will happen.
STARESSO makes "Cold brew espresso" by icy water with deeply baked and very-fine ground coffee. This "Cold brew espresso" tastes quite soft and its fruity fragrance stays much more permanently. This discover makes users exciting, because making cold brew coffee needs several hours in the past time, but now STARESSO only needs 2~3minutes?
Coffee geeksconsider that STARESSO is not only an easily operated and conveniently cleaned tiny facility, but also it is a powerful and high-qualified coffer maker, What's more, it is a "toy" with full exploration space.
Video Link: http://www.youtube.com/embed/dweTMnCkp5Y
Media Contact
Company Name: STARESSO INVESTMENT AND DEVELOPMENT CO.,LTD
Contact Person: Leon
Email: support@staresso.com
Phone: +86-757 22321512
Country: China
Website: www.staresso.com