New York City, NY – On Dec 14th 2015, Moonwalker made headlines when they launched an Indiegogo campaign for a new space age shoe that is unlike any other on the market. Moonwalker has spent years developing the 20:16 Moonwalker and the 20:16 Moonwalker V2; both defy gravity by strategically placing magnets in the sole of the shoe in order to take advantage of the repellent affect.
"The 20:16 Moonwalker shoes are sleek in design, lightweight and water resistant. However, what's inside the sole of the 20:16 Moonwalker shoes is what makes them revolutionary – the magnets," the creators explain, "Embedded inside are slim, ultra-powerful N45 Neodymium magnets that are generally used to lift anything from massive barbells to cars. Strategically positioned in the shoe, the magnets repel each other and push the layers apart. The end result is a force field that keeps you suspended in space."
Moonwalker shoes are developed with the idea that everyone should be able to know what it feels like to walk on the moon, not just astronauts. The 20:16 Moonwalker shoes show off an urban design for the
men and women on a mission: to conquer the world with their feet. The outside features smooth synthetic fabric available in a range of colors, with a padded non-slip tongue. On the inside is DuPont Tyvek synthetic polyethylene – the same material used by NASA on their space station modules.
The 20:16 Moonwalker Version 2 shoe employs "smart" technology that can be controlled using a smartphone app allowing it to connect to social media and keep you abuzz of the latest updates. Smart technology being used in shoes has never been done before, and can perhaps reshape the entire industry as health conscious consumers go for the shoes that are "connected".
"What really matters is the feeling that you get when you wear these shoes," says the team, "it is simply indescribable!"
Moonwalker has turned to the Indiegogo community in order to raise the necessary funds to begin production on this revolutionary shoe. Sponsors that become involved in the project get first dibs on the 20:16 Moonwalker and the 20:16 Moonwalker Version 2.
If you are interested in becoming involved in Moonwalker's crowdfunding campaign, visit their official IndieGoGo page by clicking here.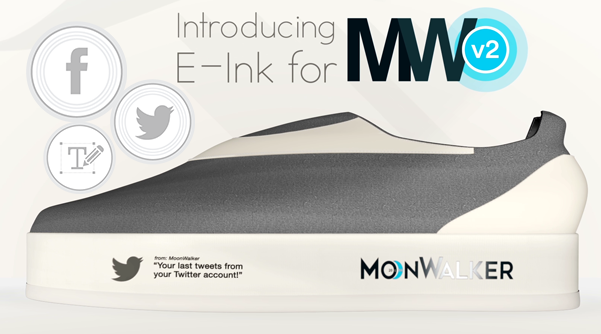 Distributed by CrowdfundingPR
Media Contact
Company Name: MoonWalker
Contact Person: Mr. Fikret Dogru
Email: contact@2016moonwalker.com
Phone: 0660 637 26 60
Country: United States
Website: http://www.2016moonwalker.com