Skateboarding is a sport that enjoys long history and lots of enthusiasts. In fact, the role of traditional skateboard is quite monotonous: just for fun. However, the advent of Fosjoas K1 electric skateboard thoroughly changes the destiny of skateboarding. From now on, skateboard is more than an equipment for skateboarding, but also can be a transport for daily use.
Skateboarding enjoys very long history and lots of loyal fans. The monotonous fate of traditional skateboard has been thoroughly changed since Fosjoas K1 electric skateboard came into being. It not only makes skateboarding much more interesting, but also can be used as a transport for daily use. Then, skateboard is not exclusive to young people anymore. Many elderly people also can have a try on Fosjoas K1 electric skateboard.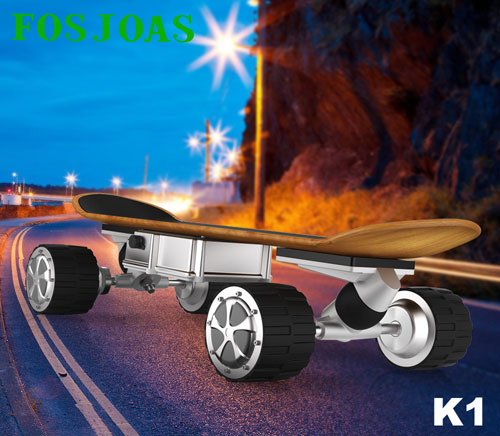 Fosjoas K1 electric skateboard has nothing to do with age, which benefits from two aspects. On the one hand, it is based on aerospace attitude control theory, fuzzy software algorithm and gyroscope system to keep itself balanced automatically. Therefore, even the elderly can ride it freely and without any challenge. For example, if riders want to speed up, just lean forward. Likewise, leaning backward will realize deceleration. That is really fantastic! On the other hand, Fosjoas motorized skateboard is powered by high-efficient SONY lithium-ion battery that has two capacities-81.4Wh and 162.8Wh, which offers the maximum range of 20km.
Long range not only can satisfy riders' enthusiasm towards skateboarding in full measure, but also can cover many travel needs in daily life. For example, people can ride it to buy some daily articles in a shop near their house. Some people even use it as a transport to go to work every day, which saves them much valuable time, especially in rush hours. The rich functions of Fosjoas K1 motorized skateboard will attract more and more users. Gradually, it will be the new leader in skateboarding world.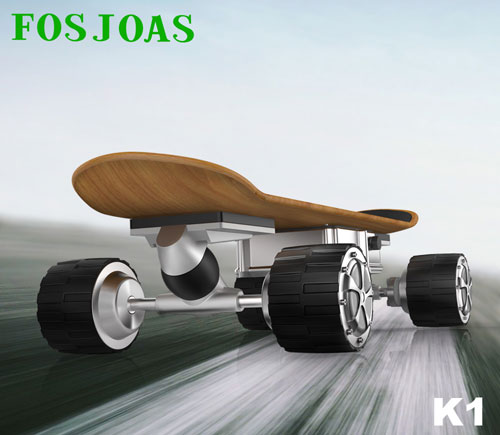 In addition, it is really cool to ride Fosjoas K1 Maple electric skateboard on road. The four forceful wide tyres, exquisite hand-made board, fashionable DIY sticker and the calm color assortments integrate a brand-new skateboard, which will make riders quite special in crowds.
Media Contact
Company Name: Moben Intl (England) Co., Limited
Contact Person: Jason
Email: moben@fosjoas.com
Phone: +86-755-83777600
Address:Room 707, Block A, Electronic Science & Technology Building, No. 2070, Shennan Middle Rd.
City: Shenzhen
State: Guangdong
Country: China
Website: http://www.fosjoas.com/