Back office software can be integrated into e-Commerce sites to dramatically improve efficiency and to synchronise website data in order to minimise data entry errors. It can also lead to improved functionality and marketing automation.
Ecommerce websites are an effective business tool and done well can generate the majority of sales for a company. We live in a digital age where lots can be automated and through effective integration, back office software can help businesses improve efficiency and functionality as well as increasing sales and providing a better user experience.
Ecommerce sites, especially those with a lot of traffic, can often require a lot of management and administration which can be time consuming. Integrating back office software significantly reduces administration and minimises data entry errors, synchronising website data. It can also improve marketing automation and functionality.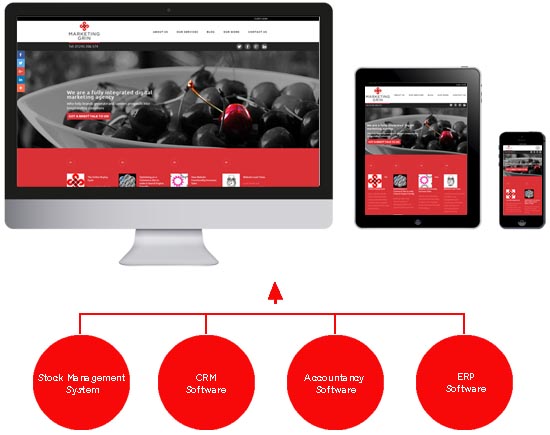 Jack Willis from Marketing Grin, an ecommerce web design agency in Essex explains: "an effective website generates lots of valuable sales data which can be used to increase conversions and repeat business. By integrating your customer relationship manager (CRM) system with your website, you are avoiding manual data transfer but also providing your sales team with excellent sales leads who can then convert prospects as well as increasing repeat sales. An email marketing system can also be linked to your website and CRM system allowing you to automate newsletters and sales offers, again providing an opportunity to increase sales."
"Taking this a step further, back office integration can help you to improve resource management. By integrating your website with your enterprise resource planner (ERP), you can gain valuable information on cost and resource management which will help you to improve resource management and efficiency."
Mr. Willis went on to say "linking your back office systems not only improves functionality and brings all of your systems together, it allows you to dig deeper into your data. Through analysis you may wish to amend forms on your websites to improve the data that you compile. For example, you may choose to give away certain resources on your site in exchange for their contact details in order to improve reach and to drive qualified traffic to your site. While you are giving away something for free, you are getting them to enter into the buying cycle where your sales and marketing team can then nurture the prospect and convert them into a customer."
Marketing Grin is a full service digital marketing agency in Essex focusing on increasing reach, improving engagement and converting prospects into long-standing, loyal customers. This is achieved through applying an effective blend of digital marketing channels.
Media Contact
Company Name: Marketing Grin
Contact Person: Jack Willis
Email: info@marketinggrin.com
Phone: 01245206574
Address:Waterhouse Business Centre, Unit 85, 2 Cromar Way
City: Chelmsford
State: Essex
Country: United Kingdom
Website: http://www.marketinggrin.com