LeafGuard Exteriors of Granger, IA, has received GAF's 2015 President's Club Award. A GAF Master Elite(R) contractor since 2011, LeafGuard has expanded into a multistate contractor offering gutter, roofing, siding, and insulation services.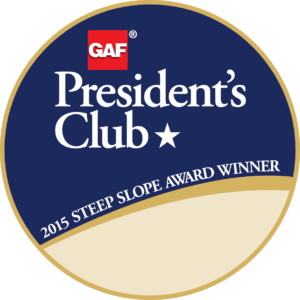 Granger, IA – June 10, 2016 – LeafGuard Exteriors of Granger, Iowa, has received the most prestigious contractor award GAF has to offer: The GAF President's Club Award. This highly coveted award recognizes LeafGuard Exteriors as one of the "elite of the elite" residential roofing contractors in the United States.
GAF is North America's largest roofing manufacturer, and only GAF Master Elite(R) Contractors can compete for its residential President's Club Award. To qualify for this award, a residential roofing contractor must demonstrate an exceptional level of excellence in their business, especially in the areas of Installation Excellence, Consumer Protection, and Installer Training.
LeafGuard Exteriors has been a GAF Master Elite(R) Contractor since 2011. To become a Master Elite(R) Contractor–a status that less than 2% of roofing contractors nationwide have achieved–a candidate must demonstrate proper licensing and adequate insurance, have a proven reputation and show commitment to ongoing professional training.
Don't let the name mislead you; LeafGuard is a full-service exterior company. "A lot of people associate us only with leaf guards," says Richard Anderson, general manager. "They're not aware that we do roofing, siding, and insulation. Our name is associated with all of these products and services–we do much more than just gutters. So we're excited about the recognition from the GAF award."
"We've been servicing Iowa area since 2004, and we have about 30 years of contracting experience in the Midwest," explains Brent Butler, marketing manager. "We stand behind the quality–of our materials, our labor, our warranties–and that sets us apart. We have one of the highest referral rates in the industry. I could hand to a prospective customer a list of 500 past customers and say, 'These are your neighbors. Call and ask them what they think of us.'"
Anderson expands on the company's customer service. "Our scheduling department prepares the customer ahead of time with a packet of information of what to expect from the job. At every step, the customer knows exactly what's going to happen and when. There are no surprises when we show up to the job site."
LeafGuard's commitment to service extends to the local community. "We feel more connected to the community than a lot of other companies. Recently, we donated goods and services in support of parents of schoolchildren in the Des Moines area," says Butler. "We've worked with Habitat for Humanity and Ducks Unlimited and make annual contributions to the Iowa Wild hockey team's 'Defending the Blue Line' program, which provides sports equipment and opportunities for underprivileged children. We love our community and love to give back."
Expansion is the name of the game, according to Anderson. "In 2015, we rolled out a new office in eastern Iowa, helping us deliver the region's best service and workmanship. Our newly built, state-of-the-art conferencing and telecommunication center greatly facilitated communication with national franchisees and other local offices."
That communication is a key part of LeafGuard's success. "Although we have four different offices, we have a family atmosphere–everyone gets along well, and we act as a team," concludes Anderson. "That's a 'human side' that we want everyone to see. As we move forward, you're going to see a lot more of that from LeafGuard; your neighbors who provide excellent customer service, quality workmanship and a products that will last a lifetime.
About LeafGuard Exteriors
Since 2003, LeafGuard has expanded into a multistate construction and home-improvement enterprise, with close to 50 employees and more than 15,000 happy customers. It's easy to please customers with LeafGuard's great products and its staff of hard-working professionals. Nearly 30% of new customers come from referrals. Already established in the gutter installation business, the company has expanded to roofing, siding, and insulation.
LeafGuard Exteriors
1814 Main St.
Granger, IA 50109
(515) 999-2896
(866) 576-5710
http://www.guttersiowa.com or http://www.roofsiowa.com
Facebook: https://www.facebook.com/leafguardiowa
Twitter: https://twitter.com/LeafGuardExteri
LinkedIn: https://www.linkedin.com/company/leafguard-of-central-iowa
YouTube channel: https://www.youtube.com/user/leafguardiowa
About GAF
Founded in 1886, GAF is the largest roofing manufacturer in North America. The company's products include a comprehensive portfolio of steep-slope and commercial roofing systems, which are supported by an extensive national network of factory-certified contractors. Its success is driven by its commitment to Advanced Quality, Industry Expertise, and Solutions Made Simple. GAF was the first roofing manufacturer to offer a Lifetime limited warranty on all of its laminated shingles, which then evolved with the introduction of the GAF Lifetime Roofing System by extending the Lifetime coverage beyond just the roofing shingles.
For more about GAF, visit http://www.gaf.com
Media Contact
Company Name: LeafGuard Exteriors
Contact Person: Joe Smith
Email: joe@centralleafguard.com
Phone: (866) 576-5710
Address:1814 Main St.
City: Granger
State: IA
Country: United States
Website: http://www.roofsiowa.com