Andreea Mihalcea's informative and insightful book, Speed Selling: The Fast Track to Double Your Sales Without Sacrificing Who You Are, just hit Best Seller in several Amazon categories and is currently offered free at her website.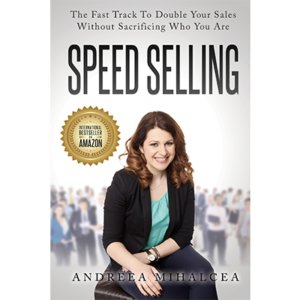 Andreea Mihalcea has just hit Best Seller status in several Amazon business categories and to celebrate is now offering a free copy of her new book, Speed Selling: The Fast Track to Double Your Sales Without Sacrificing Who You Are, on her website. She is a sales and marketing trainer and successful speaker who is a former head of the Foreign Relations Office within the Bucharest Chamber of Commerce and Industry. During her tenure, she was an organizer, host, and facilitator in over 70 international business events and networking meetings.
She began her own sales and marketing consulting service in order to assist SME owners, young entrepreneurs, and sales professionals who desire to make a difference and create the "insanely great" in their own field of activity. Mihalcea defines success as the impact an idea, activity, or business has in the lives of consumers. She strongly believes that there is more to selling than mere persuasion and manipulation techniques. Quality versus quantity is the key.
Mihalcea attributes her knowledge and success to working with and learning from successful business people, political leaders, and thinkers from all over the world. Her skill in negotiation between many different cultures has allowed her the unique insight of how businesspeople with a common vision can achieve success in a global market despite having different expectations and opposing perspectives.
She is also the author of the book Speed Selling: The Fast Track to Double Your Sales Without Sacrificing Who You Are, which is acclaimed, and recognized on Amazon as a Multi National Bestseller, and deconstructs the laws of sales and marketing, providing valuable insights on the art and science of ethical selling and leadership.
According to Mihalcea, "Speed Selling reveals how the consumer's behavior is different today and why none of the old sales and marketing techniques work as they used to. If you want to master the core elements of the inner game of sales and learn the secret to closing calmly and consistently every single time, read this book!"
For a limited time, readers can download a free copy of Andreaa Mihalcea's book, Speed Selling, valued at EUR 35, to those who visit www.AndreeaMihalcea.com/FREE. For additional information about the author, her company inCommunica Ltd, and other sales and marketing advice, visit the author's website.
About Andreaa Mihalcea: Andreaa Mihalcea graduated from the Romanian Diplomatic Institute and headed one of the Foreign Relations Offices within the Bucharest Chamber of Commerce and Industry. She currently works with entrepreneurs and business owners as a business growth consultant. Mihalcea currently resides in Romania
Media Contact
Company Name: inCommunica Ltd
Contact Person: Andreea Mihalcea
Email: contact@andreeamihalcea.com
Phone: +40770732701
Country: Romania
Website: http://www.andreeamihalcea.com/FREE/