Atlanta Eco Cleaners named one of the top cleaning companies of 2016 in Atlanta by Expertise.com in a recent survey of over 137 local cleaning companies.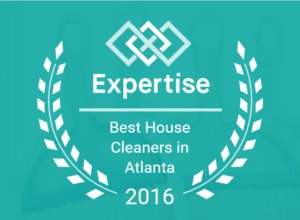 Atlanta house cleaning company Atlanta Eco Cleaners was selected as a top cleaning company in Atlanta, GA by rating website Expertise.com.
The national rating site connects people with the experts in their community based on a 3 step process as Forrest Kolb, Director of Community at Expertise.com explains:
Step 1: Surveying the field
"Our first step is to find every business that provides service in the city and to filter out any that fail to meet our definition of an expert. We flag and remove any business with a history of dissatisfied customers, or with limited online information that makes them difficult to contact."
Step 2: Ranking Businesses
"Next, we use our in-house software to grade each business on 25 variables across five judgment criteria:
REPUTATION:

A history of delighted customers as a signal of outstanding service.

CREDIBILITY:

Building customer confidence with licensing, industry accreditations, and awards.

EXPERIENCE:

Masters of their craft, based on years of practical experience and education.

AVAILABILITY:

Consistently approachable and responsive, so customers never feel ignored.

PROFESSIONALISM:

Providing customers a seamless experience both online and off."
Step 3: Hand-picking the best
"Once the businesses are ranked, our team manually reviews the highest scoring results to ensure that we can proudly stand behind each of our selections. We then gather all of the relevant contact information, and write detailed descriptions to give our readers a clear overview of each business."
In Atlanta, they looked at 137 different house cleaning companies, and Atlanta Eco Cleaners came 3rd in their top 20 cleaning companies in the metro Atlanta area.
Atlanta Eco Cleaners serves residential and commercial customers with nontoxic cleaning services in the Atlanta area. The business provides Move-in and Move-out cleaning, Deep cleaning, and add-on cleaning including refrigerator cleaning, oven cleaning, interior window cleaning, and construction cleanup. Atlanta Eco Cleaners is a member and supporter of Cleaning for a Reason and has been featured on ABC, CBS, FOX, CNN, and NBC.
Atlanta Eco Cleaners is a family business owned by Neil Howe and his wife Amanda, and they were elated to be featured as one of the best cleaning companies in Atlanta in the Expertise.com survey.
Mr. Howe stated, "It is great to be recognized as a leader in the Atlanta area when it comes to house cleaning. We do the best we can as a company to keep our clients happy and provide a quality clean and keep a safe and chemical free home environment for our valued customers. It is always nice to see that people value the work that we do and we would like to thank our clients and Expertise.com for the recognition."
The goal is to connect people with the best local experts. Expertise.com scored house cleaners on more than 25 variables across five categories and analyzed the results to give their users a hand-picked list of the best house cleaners in Atlanta, GA.
"Imagine you need to hire someone to do something important: capture images of your wedding, provide legal advice, or fix a leaky faucet. For most people, this means spending hours researching and contacting businesses, with little insight into their credibility, availability, or reliability – and no way to know whether they are truly experts", Kolb discussed.
"To solve this problem, we're creating lists of the best local professionals in each US city to give our readers the confidence they need to make the right choice."
"Connections are the insights that form our thoughts and beliefs, and the medium that binds us together as a community. Our goal is to be a hub where qualified experts can connect with people to share their knowledge, experience, and skills. We strive to establish connections with our users, and to help them connect with each other," said Forrest Kolb, Expertise.com Community Director.
For more information about Expertise.com visit their website and to connect with Atlanta Eco Cleaners visit their site: http://MaidCleaningServicesAtlanta.com
Media Contact
Company Name: ACE Marketing
Contact Person: Dennis L McClure
Email: support@TheAuthorityArchitect.com
Phone: 4044281399
Country: United States
Website: http://TheAuthorityArchitect.com