Since the game Era of Empire was launched on Google Play in September, players have shown their eagerness and passion for it. The EOE team has received lots of feedbacks and valuable advice for the game to support and help make it a better one. Good news comes that they are launching a PC version on Facebook. Once the version is released, players can play the game both on mobile and Facebook! And the IOS version is also on their agenda.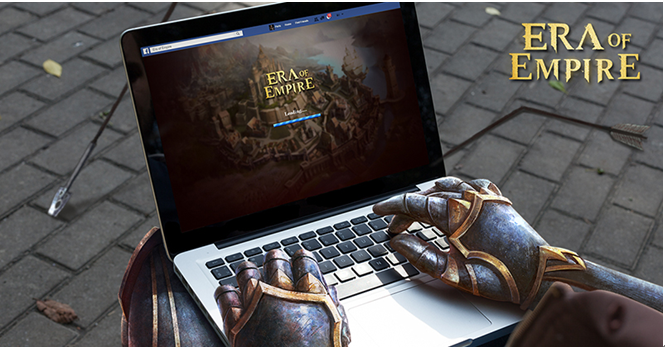 Era of Empire is a real time simulation game brought by PCL. In this new thrilling adventure, a Black Dragon has emerged from the deeps and plans to destroy the hero's land. Players will have to challenge quests to become a warrior and build their empire, manage resource production, train troops, form an alliance and attack the castle dominated by an evil dragon to recover their lost territory. As a king, the player must lead his troops to explore the surrounding areas and take as many resources as possible while simultaneously protecting the empire from being attacked by evil forces. Random monsters will attack your castle from time to time and you must be ready to protect it. Players can also team up with their allies to become stronger. The multiple, challenging gameplays, accessible UI design, the epic fight scenes, as well as the player's favorite PVP/ PVE modes will bring the players back to the fantastic Middle Ages.
EOE uses the Unity 3D engine to build fast and high quality 3D graphics. Its rotatable castle wins lots of love from the players. And this distinguishing feature may even be better shown in the PC version, and bring better game experience. There will be data sharing between the mobile version and Facebook version. Old players can also play the game on Facebook after they bind their account. Players can freely switch from mobile version and PC version.
And in late October, EOE will release the new version 1.2.2, in which the service system and information push system will be launched. Player's problems will be timely solved and they don't have to worry about missing any information in game.
To celebrate the Facebook version, there will be abundant events both in game and on EOE's official fan page on Facebook.
Pricing & Availability
Era of Empire is free-to-play and will be launched for Android in early September, it will be available for iOS a few months later as well.
Download Link: https://play.google.com/store/apps/details?id=com.gamehollywood.warandalliances
URL: http://www.eraofempire.com/
Assets
Trailer
YouTube: https://www.youtube.com/watch?v=thp-iSGzeKE
Social Media
Proficient City
YouTube: https://www.youtube.com/proficientcitylimited
Facebook: https://www.facebook.com/eraofempire/
Image: https://drive.google.com/drive/folders/0B2avjGY6Tt4dVjMwRFJnakxOVnM

About Proficient City
Proficient City, a branch of Game Hollywood, is an international online game company with offices in China, Europe, and Montreal. They specialize in innovating operations and strive for a perfect balance between content, gameplay and storyline.
Media Contact
Company Name: Proficient City Limited
Contact Person: Paris Huo
Email: contactus@proficientcity.com
Phone: 86 020 8405 6975
State: Guangdong
Country: China
Website: http://www.proficientcity.com/