Shunlongwei supplies wide-range of electronic accessories and components of superior quality. All these products are in line with current international standards.
Electronic industries often have to rely on advanced equipment or accessories for different purposes. There are many agencies that are specialized in supplying varieties of electronic components to meet the growing expectations and requirements of clients. Shunlongwei Co Ltd is a professional supplier of top quality components to global electronic industries. The firm is always emphasized on offering genuine electronic accessories that will produce seamless and flawless performance under all conditions. It always prioritizes the specific requirements and needs of customers so as to supply them relevant electronic products. Products that are supplied by this agency are quality certified and belong to major brands like Atmel, Maxim, Allegro and others.
This company is a dedicated supplier of reliable and high quality NEC LCD display such as NEC NL6448BC33-70. which is a kind of LCD display panel supporting visual resolution of 640 RGB X 480 VGA. It can also display 262K colors with satisfactory respond time. There is a layer of protective film affixed to finished module's surface in order to avoid damage and dirt accumulation. The panel should be kept even so as not to have the LCD display surface twisted as well as to improve seismic bearing capacity. Customers are refrained from changing any inner part of this product as well as are not allowed to modify the pcb board appearance, the fitting hole and so on.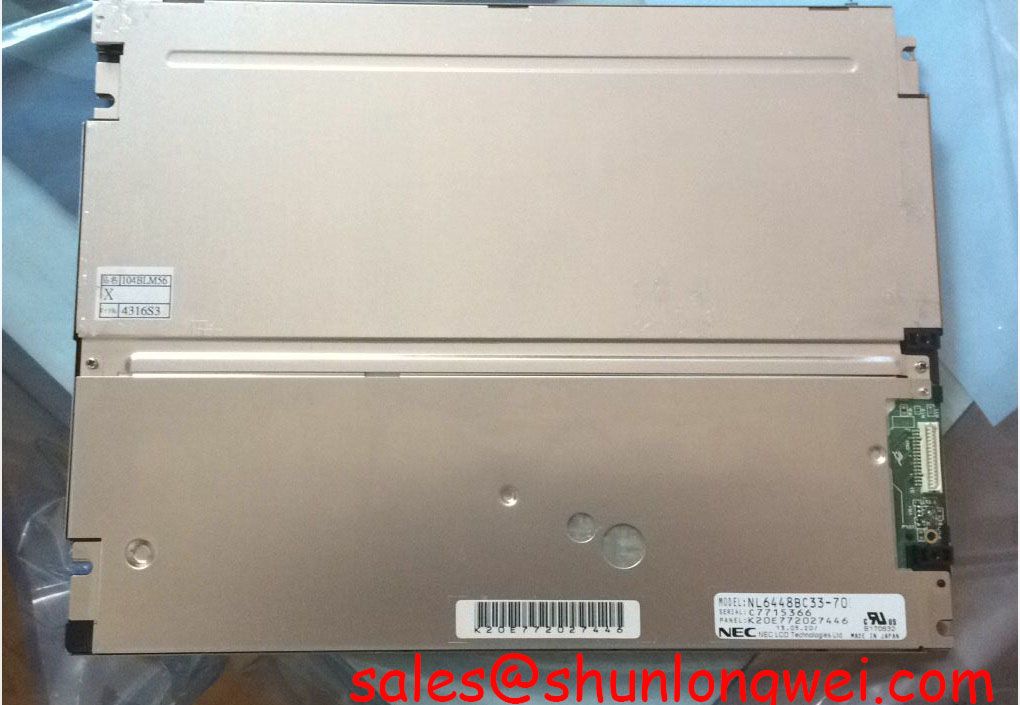 This Shunlongwei also offers another type of LCD Display like AUO G084SN05 V7 that supports satisfactory visual resolution with good contrast ratio and response time. When doing installation, users need to keep the LCD screen in a smooth condition so as to avoid twisted condition by the application of external force. This LCD module needs to be placed carefully as it is quite fragile and can break easily. Users are refrained from exposing this LCD display under direct sunlight otherwise the function will decrease. Contamination on the LCD screen of this product must be wiped by alcohol, cotton or soft cloth.
This Distributor also offers hosts of services to clients that include knowledgeable technical support, offshore sourcing, 24 hour inquiry response time and so on. It ensures timely delivery of ordered items within stipulated time period. It helps customers in selecting the right products of their needs. It helps customers to avoid spending extra time and energy in obtaining genuine electronic accessories from third-party agents. It always forwards advanced quotes once receiving requests from customers.
About Shunlongwei Co Ltd
Shunlongwei Co ltd is a specialized supplier of high quality electronic components of different brands. All these products must be handled carefully and the company provides varieties of services to clients. For more information, customers can visit the website of this agency.
Media Contact
Company Name: Shunlongwei Co ltd
Contact Person: Sales Dept.
Email: sales@shunlongwei.com
Phone: +86-755-82732562
City: Shenzhen
Country: China
Website: http://www.slw-ele.com