"Mortgage Storm, Making It Rain by Mastering Your Craft," featuring sixteen top mortgage producers and coaches, reached Number 1 on the Amazon "Mortgages" Bestseller List.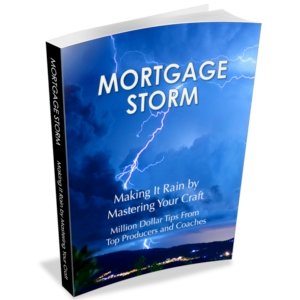 The new release by NMG Publishing, "Mortgage Storm, Making It Rain by Mastering Your Craft," reached the top of Amazon's Bestseller List in the "Mortgage" Category at Number 1. Amazon also listed the book as the Number 1 Hot New Release in several categories.
Mortgage origination can be one of the most rewarding careers among the entire real estate industry and even among all sales fields. Income is generally commission-based and the earning potential is only limited by individual performance. The challenge is that there is not much in the way of formal training available to master the business. In this book, sixteen top producers and coaches provide insights and tips to succeed in the mortgage business. They provide a "peek behind the curtain" to see how they have built their businesses and have generated over $20 billion combined in residential mortgage originations.
The co-authors of "Mortgage Storm" include Brad Roche, Barry Habib, Vinnie Apostolico, Douglas Bateman, Jason Redman, Alex Caragiannides, Sherree Montero, Richard Lytle, DeAnn Ellis, Joel Comp, Brad Cohen, Jason Gosser, Justin Oliver, Joe McBreen, JJ Mazzo, and Manuel Corral.
The authors were selected to participate in the book because they not only have exhibited high levels of individual performance in the mortgage origination field, but they also give back to the industry by sharing their experiences and insights with other mortgage originators. In "Mortgage Storm," they describe how to overcome common obstacles, develop the right mindset for success, and generate multiple streams of referrals. They also demonstrate how to develop a value-added service model in a commodity industry and how originators can brand themselves as the trusted expert in their market. Finally, they provide ideas on differentiation from the competition and how to organize to focus on results.
"Mortgage Storm, Making It Rain by Mastering Your Craft," is available on Amazon.com in a Kindle version at https://www.Amazon.com/dp/B01N53D5G0. The paperback version will be released soon.
Media Contact
Company Name: Nations Media Group
Contact Person: Bill Kopatich
Email: Billk@NationsMediaGroup.com
Phone: 704-625-0097
Country: United States
Website: http://www.NationsMediaGroup.com