"GROW INTO YOUR GREATNESS" by Tina Louise Greer, reached Number One on Amazon.com's Best Seller List in the Career Development & Vocational Guidance on November 22, 2016.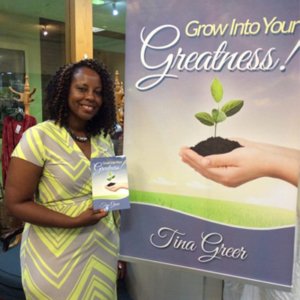 Business Growth Strategist, Speaker, and Certified Life Coach (CLC), Tina L. Greer's recent release, "GROW INTO YOUR GREATNESS!" hit Amazon.com's best seller list on November 22, 2016, climbing all the way to Number One in the Career Development and Vocational Guidance categories.
First published in 2015, "GROW INTO YOUR GREATNESS!" is Tina L. Greer's self-help work targeted at women entrepreneurs, and designed to wake up their gifts and talents and to let them know they are special and designed to achieve greatness.
In response to the book hitting Number One, Greer stated, "I am excited and humbled by hitting #1 on the Amazon Best Sellers list and also having the title International Best Seller. It has always been my desire to encourage others who have faced challenges in their business and in life.
Everyone has the capacity to achieve whatever they believe. Through my book, the reader is equipped with the tools they need to make a shift in their thinking, as well as tools to excel in their business ventures.It all starts with having a proper mindset and knowing you are worthy of good things in life. Step out and go for it! You have the power to achieve greatness!"
With the recent news around the start of 'Unequal Pay Day' and a report in the media stating, "No reduction in gender gap pay until 2069," GROW INTO YOUR GREATNESS! is a hot topic and a must read for female entrepreneurs aspiring to walk with purpose and plan out their own lives.
ABOUT THE AUTHOR
Tina L. Greer is a successful corporate business woman, entrepreneur, and speaker, with more than 20 years combined experience in the areas of business management, finance, and business development.
In addition to receiving her Bachelor's of Science in Business Administration from Southern Illinois University at Edwardsville and Master's degree in Public Administration from Murray State University, Murray, KY, she is also CEO of Greer Business Solutions, LLC, Founder of Sisters United, and Owner of Affirmations for the Soul™.
She has a passion for helping others succeed in business and in life, which reflects in her book, GROW INTO YOUR GREATNESS!
To learn more about, Tina L. Greer, visit http://www.TinaGreer.com
"GROW INTO YOUR GREATNESS!: Designed to Encourage, Uplift, and Inspire" is now available in leading book stores and local libraries, as well as in Kindle and paperback formats on Amazon.com at https://www.amazon.com/dp/B00YYFW4JM.
Media Contact
Company Name: Publishing Media Professionals
Contact Person: Stewart Andrew Alexander
Email: Stewart@PublishingMediaProfessionals.com
Phone: +1(646)233-3030
Country: United States
Website: http://PublishingMediaProfessionals.com