Summit Roofing of Missoula, MT, has received GAF's 2015 President's Club Award. A GAF Master Select(TM) contractor, it delivers a complete roofing service and quality workmanship to the general public and to building contractors.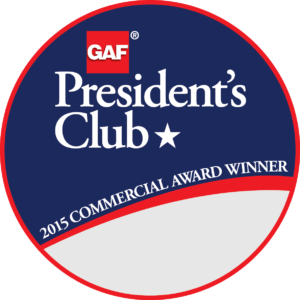 Missoula, MT – November 30, 2016 – Summit Roofing, Inc., of Missoula, Montana, has received the most prestigious contractor award GAF has to offer: The GAF President's Club Award. This highly coveted award recognizes Summit Roofing as one of the "elite of the elite" among commercial roofing contractors in the United States.
GAF is North America's largest roofing manufacturer, and only GAF Master Select(TM) Contractors can compete for its commercial President's Club Award. To qualify for this award, a commercial roofing contractor must demonstrate an exceptional level of excellence in their business, especially in the areas of Installation Excellence, Property Owner Protection, and Installer Training.
To become a Master Select(TM) Contractor–a status that less than 1% of roofing contractors nationwide have achieved–a candidate must demonstrate proper licensing and adequate insurance, have a proven reputation, and show commitment to ongoing professional training.
Specializing in commercial projects of all sizes, Summit Roofing confidently executes all customer roofing needs, large or small. With 32 years of experience in low-slope commercial roofing and 13 years of experience in steep slope, the company handles all types of roofing installations, including complex commercial projects.
Understanding the diversity of commercial roofing systems, the company is certified for product installation by the leading manufacturers of commercial roofing materials. Because businesses need to keep operating during the roofing process, Summit Roofing minimizes obstruction to parking facilities and entryways to keep operations flowing smoothly.
Summit Roofing has received professional certifications from GAF. The Single-Ply Certification indicates a specialization in installing single-ply roofing systems. With the Topcoat Certification, Summit Roofing is recognized for specializing in the installation of GAF's TOPCOAT(R) products–liquid-applied roofing restoration systems formulated to stand up to the harshest of roof conditions and provide energy savings at a fraction of the cost of a new roof.
The company believes that quality craftsmanship and design are just the beginning in installing a successful roofing system. Priding itself on a long-term relationship with its clients, Summit Roofing goes beyond the basics–with innovative maintenance programs, great customer service, and extended warranties that ensure customer satisfaction and long-term roof performance.
About Summit Roofing, Inc.
Priding itself on quality workmanship and service to the general public and to building contractors, Summit Roofing delivers a complete roofing service–from technical advice, design, and installation to long-term monitoring and roof management. Serving Montana and Idaho, the company has offices in Missoula, Helena, and Billings.
Summit Roofing
9550 Derby Drive
Missoula MT 59808
(406) 829-9100
http://www.summitroofing.info
About GAF
Founded in 1886, GAF is the largest roofing manufacturer in North America. The company's products include a comprehensive portfolio of steep-slope and commercial roofing systems, which are supported by an extensive national network of factory-certified contractors. Its success is driven by its commitment to Advanced Quality, Industry Expertise, and Solutions Made Simple. GAF was the first roofing manufacturer to offer a Lifetime limited warranty on all of its laminated shingles, which then evolved with the introduction of the GAF Lifetime Roofing System by extending the Lifetime coverage beyond just the roofing shingles.
For more about GAF, visit http://www.gaf.com
Media Contact
Company Name: Summit Roofing
Contact Person: Bill Johns
Email: info@summitroofing.info
Phone: (406) 829-9100
Country: United States
Website: http://www.summitroofing.info