Oviedo, United States ̶ Marshall Pitcairn is excited to announce the launch of his Indiegogo campaign for ZEAL Apartments, new high-quality, zero energy apartments designed to be just as affordable as normal apartments.
"ZEAL Apartments are fully powered by renewable energy, with enough to cover everybody's normal usage for today, so you don't have to skimp on your amenities," the creator explains, "The electricity is included in the rent, and the rent will be comparable to other apartments in the area. You pay the same, and don't give up anything. ZEAL Apartments offer no hassle sustainable living to renters and a better ROI for investors."
Marshall Pitcairn admits that there are other residential and commercial zero energy apartments out there, but they are few and far between. They also don't have the competitive potential that ZEAL Apartments has harnessed. By franchising these apartment complexes, investors will be taking advantage of the high demand for green energy and can expect higher returns on their investments. Even when the units in ZEAL Apartments are empty, they are making $50 to $150 in electricity per month.
By giving backers a chance to vote for a ZEAL Apartment to be built in their city, creators are showing demand to developers who can make these projects happen. By joining the franchise, the developer's fees will be going towards advertising to encourage sustainable buildings, R&D to improve ZEAL Apartments' sustainability, and a portion of fees will go towards housing the homeless. This Indiegogo campaign will help raise the funds to start building the first ZEAL Apartment, so any pledges or shares are appreciated.
"What started as a desperate project when I was a homeless single father during the recession has now taken on a life of its own. When I couldn't find a job as a programmer in time, which I had experience as for 15+ years, I had to make something happen," says Pitcairn, "So I came up with a plan to make a solar project work with the odd legal barriers in Florida. I had tinkered with solar projects for 10 years as a hobby, but the very laws that made solar installation difficult in Florida led me to the idea: to build zero-energy apartments."
In exchange for pledging to the project, backers can gain access to a variety of rewards including a special place on the waiting list to live in a ZEAL Apartment for $20, a spot on the waitlist and the choice of a ZEAL logo t-shirt, coffee mug, or tote bag, and more. Backers can also pledge $100 for a spot on the waiting list and personal thank you phone or Skype call from the owner of ZEAL Apartments.
For more information, please visit the Indiegogo page here or contact the creator below.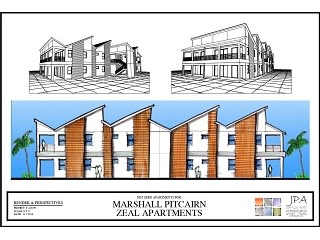 Distributed by CrowdfundingPR
Media Contact
Company Name: ZEAL Apartments
Contact Person: ZEAL Apartments PR
Email: marshall@zealapartments.com
Phone: 321-960-2630
Country: United States
Website: https://www.indiegogo.com/projects/zeal-apartments-solar#/