Madison, United States ̶ Paul Stokes recently launched an Indiegogo campaign to raise funds to produce two audiobooks of famous outdoor writer Bill Stokes' work. These works include Hi-Ho Silver, Anyway! and Trout Friends and Other Riff-Raff.
"Through his travels, Bill has met with the unusual and unique: the oddball, the occult, the sad, the glad, the good, the bad, the humorous, the tragic, the trivial, and the serious," the creator explains, "His writing, his perspective on life and his passion makes him a masterful story teller. His ability to tell the story and make the connection with his readers is uncanny; taking him to audio with one of the voice professionals we are considering will only enhance the listener's enjoyment."
Originally published in 1973 by The Milwaukee Journal Sentinel, Hi Ho Silver, Anyway! is a great American comedy novel in which readers move with Bill through the seasonal changes of life in Wisconsin, giving them new appreciation for living in such a great and wondrous state. In Trout Friends and Other Riff-Raff, popular Chicago Tribune outdoor columnist Bill Stokes shares entertaining stories about his passion for trout fishing.
Bill Stokes, Wisconsin's favorite journalist, recently re-published his 1968 collection of short stories, Ship the Kids on Ahead, in print, eBook, and audiobook format. Paul Stokes, owner and operator of audiobookreviewer.com and Bill's grandson, wants to help his grandfather reach an even bigger audience by having two new digital audiobooks recorded.
During his long journalism career, Bill won many conservation awards, including the Ernie Pyle Memorial Award from Scripps-Howard News Service in 1972! His work has appeared in many national publications; to name a few: Readers Digest, Outdoor Life and Sports Afield. He has compiled three anthologies of his newspaper writing and has authored two children's books.
"I have admired my grandfather for years and am passionate about words and stories. Audiobooks have played an important role in my life," says Stokes, "Everything that I have today, I have because Bill believed in me when others didn't. He gave me a chance to make my life better. If it wasn't for him, I am not sure where I would be right now. That's why I have been working hard to do something for him, specifically bringing his books back to life."
In exchange for pledging to the project, backers can gain access to a variety of rewards including paperback, eBook, and audiobook copies of Hi-Ho Silver, Anyway! and Trout Friends and Other Riff-Raff plus custom bookmarks for $110. Backers can also pledge $20 for an eBook bundle, $50 for an audiobook bundle, or $60 for a paperback bundle.
For more information, please visit the Indiegogo page here or contact the creator below.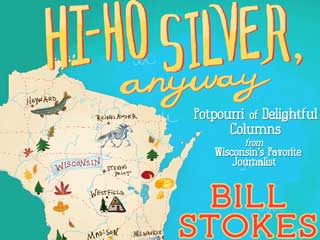 Distributed by CrowdfundingPR
Media Contact
Company Name: Hi-Ho Silver
Contact Person: Paul Stokes
Email: paul@stok.es
Phone: 608 513 9770
Country: United States
Website: https://www.indiegogo.com/projects/2-audiobooks-by-famous-outdoor-writer-bill-stokes#/