Mid-South Roof Systems of Forest Park, GA, has received GAF's 2015 President's Club Award. A GAF Master Select(TM) contractor, it focuses exclusively on delivering large-scale flat-roofing services nationwide for commercial applications.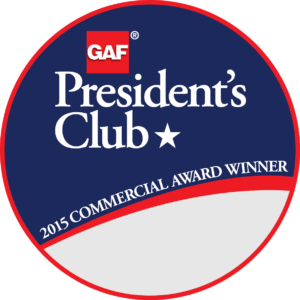 Forest Park, GA – 03 Dec, 2016 – Mid-South Roof Systems of Forest Park, Georgia, has received the most prestigious contractor award GAF has to offer: The GAF President's Club Award. This highly coveted award recognizes Mid-South Roof Systems as one of the "elite of the elite" among commercial roofing contractors in the United States.
GAF is North America's largest roofing manufacturer, and only GAF Master Select(TM) Contractors can compete for its commercial President's Club Award. To qualify for this award, a commercial roofing contractor must demonstrate an exceptional level of excellence in their business, especially in the areas of Installation Excellence, Property Owner Protection, and Installer Training.
To become a Master Select(TM) Contractor–a status that less than 1% of roofing contractors nationwide have achieved–a candidate must demonstrate proper licensing and adequate insurance, have a proven reputation, and show commitment to ongoing professional training.
Ranking among the top 10 commercial roofing contractors in the United States, Mid-South Roof Systems has more than 25 years of operation in servicing flat-roof applications. The company is able to travel across America to partner with companies nationwide, including world-class clients such as Wal-Mart, Lowe's, IKEA, and BMW. Due to economies of scale and internal efficiencies, it achieves this goal while maintaining prices comparable to local roofing operations. Mid-South Roof Systems also works with a nationwide network of service contractors to handle customers' post-installation needs in a timely manner.
Roofing material manufacturers require contractors to meet strict guidelines before granting applicator certification; they also provide contractors with the opportunity to achieve different levels of status through volume and performance. Year after year, Mid-South Roof Systems meets and exceeds these standards. The company has received awards and recognition from multiple manufacturers, including GAF, Carlisle Syntec ESP, Firestone, Johns Manville, and ARCO Design Build.
Mid-South Roof Systems has received several professional certifications from GAF. The Asphaltic Certification indicates that the contractor specializes in installing asphaltic roofing systems, and the Single-Ply Certification indicates a specialization in installing single-ply roofing systems. With the Topcoat Certification, Mid-South Roof Systems is recognized for specializing in the installation of GAF's TOPCOAT(R) products–liquid-applied roofing restoration systems formulated to stand up to the harshest of roof conditions and provide energy savings at a fraction of the cost of a new roof.
The company's crews have a vast knowledge of every product and system on the market. Because the company holds certifications from all major manufacturers, customers are assured that contracted work meets warranty specifications. To stay competitive, Mid-South Roof Systems is committed to delivering roofing solutions that meet each customer's needs. It takes pride in building long-term, mutually beneficial relationships with its clients–listening closely and maintaining a collaborative approach. From diagnosis to handover, Mid-South Roof Systems works with the customer every step of the way to quickly get a building's roof and business back in working order.
About Mid-South Roof Systems
Mid-South Roof Systems delivers large-scale flat roofing services nationwide for commercial applications, including big-box retail, distribution centers, and manufacturing facilities. The company focuses exclusively on flat roofs, resulting in world-class roofing solutions that meet customers' unique needs.
Mid-South Roof Systems
5020 Old Dixie Road
Forest Park, GA 30297
(404) 361-5154
http://www.mid-southroof.com
LinkedIn: https://www.linkedin.com/company/mid-south-roof-systems
About GAF
Founded in 1886, GAF is the largest roofing manufacturer in North America. The company's products include a comprehensive portfolio of steep-slope and commercial roofing systems, which are supported by an extensive national network of factory-certified contractors. Its success is driven by its commitment to Advanced Quality, Industry Expertise, and Solutions Made Simple. GAF was the first roofing manufacturer to offer a Lifetime limited warranty on all of its laminated shingles, which then evolved with the introduction of the GAF Lifetime Roofing System by extending the Lifetime coverage beyond just the roofing shingles.
For more about GAF, visit http://www.gaf.com
Media Contact
Company Name: Mid-South Roof Systems
Contact Person: Geoff Mitchell
Email: geoffm@mid-southroof.com
Phone: (404) 361-5154
Country: United States
Website: http://www.mid-southroof.com