Nonprofit EmbraceRace is building an online community to discuss and share best practices for how to nurture healthy kids in a racialized world.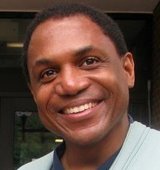 Race matters, says Andrew Grant Thomas, co-founder of the nonprofit EmbraceRace.
"Colorblindness has not worked well for us," Andrew says. Finding alternative strategies for getting along is precisely why he and his partner Melissa Giraud founded EmbraceRace in 2016.
Parents of two young girls, Melissa, an educator, NPR producer, education technology strategist, and foundation consultant, and Andrew, a long-time racial justice researcher, advocate, and consultant, also see EmbraceRace as a way to help caring adults become effective racial justice advocates for all children.
"EmbraceRace is a community of people who are concerned about the present and future of our kids, with race being an important part of the context in which that present and future play out," Andrew says.
EmbraceRace is trying to help every adult who participates in this global "getting along," as Andrew describes it, to be more thoughtful and informed about the work we need to do as parents, teachers, big brothers and big sisters — no matter what your role is with respect to kids.
"How do we as adults play that role so kids can be as thoughtful and informed as they can be – and better than we collectively have been?" explains Andrew.
And, as he is quick to point out, almost every single person on this earth has some form of connection to children. Very few adults are isolated from the inquisitive and absorbent minds of kids, thus making EmbraceRace's mission one we all share.
The EmbraceRace community is currently made up of a wide, multiracial array of people who want to participate in this important effort, but still being a young organization, Andrew admits the community is very much in development at this point. There are many parents and teachers, as well as experts like child psychologists. Anyone who thinks they have something to offer or learn as it relates to raising culturally aware children can benefit from EmbraceRace.
"It's about making room for people to reflect on their own experience of race, and exchange with other people who are trying to do the same thing — and to have all of that informed by the information, resources, tools, and expertise that EmbraceRace pulls together and, in some cases, creates," Andrew explains.
What EmbraceRace Looks Like for 2017
"It'll be remarkable," Andrew says. "2017 will be our first full year of operation. It will be the year where we really declare ourselves."
For Andrew, that means that in 2017 EmbraceRace really begins to emerge as a mover and shaker in the larger racial justice movement in the United States. While working on a grassroots level in many places, as well as online, he envisions national impact.
To aid in that effort, EmbraceRace will host monthly conference calls and public workshops on a range of issues around race and nurturing children.
To learn more about EmbraceRace or join the cause, go to www.EmbraceRace.org or check out their Facebook page at facebook.com/weembracerace. A team of volunteers also maintain a blog at www.medium.com/embrace-race. Andrew says new voices are welcome, especially the voices of people of color.
EmbraceRace was selected as Augmented Publishing Group's (APG) Featured Charity. APG fulfills their corporate social responsibility by highlighting various nonprofits who are also enacting positive change in their community.
About EmbraceRace
EmbraceRace is a multiracial online community of parents, teachers, experts, and other caring adults who support each other and share best practices to meet the challenges that race poses to our children, families, and communities.
Media Contact
Company Name: EmbraceRace
Contact Person: Andrew Grant-Thomas
Email: andrew@embracerace.org
Phone: 614-648-2276
Country: United States
Website: http://www.embracerace.org