On the evening of Thursday November 10th, Grace Lutheran Church and School of Sandy, Utah, hosted the first in a series of community-wide safety courses. The first active-shooter survival course was taught by safety expert, Brett Lechtenberg.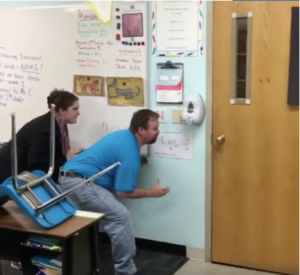 The two and a half hour course took the participants through four separate phases of learning. First, everyone was educated on the realities of safety and the statistics of active shooter incidents. Subsequently, attendees were trained on how to properly defend in an enclosed space like a classroom, then how to properly use cover and concealment to escape a building. Finally, the reviewed how to handle the event of being trapped in a more open space like a gymnasium or shopping mall.
The crux of the training was based around what Lechtenberg coined "The Personal Safety Formula." The formula of "E cubed plus D" referred to Evaluate, Evade, Escape and (as a last resort) Defend.
Participant Rich Lavine, the owner of Blue Sky Home Inspection, said about the course, "I was blown away with how much great information I learned and how empowering the hands-on practice actually is."
Active shooter situations have become so prevalent since the 1999 Columbine incident, that President Obama tasked the FBI to break down the statistics and realities of active shooter scenarios. This was a direct attempt to better understand and deal with these types of situation.
Law enforcement has been quick to respond to new training methods for dealing with active shooter scenarios but average citizens have been slow to respond to the ever increasing realities of this type of situation.
"This training is a valuable tool in keeping our students safe in an emergency situation," stated Grace Lutheran principal Shelly Davis.
Active shooter incidents have more than doubled since 2007 and the statistical evidence is clear that unarmed citizens can have a dramatically positive effective on saving lives in an active shooter scenario.
Lechtenberg said, "It's truly a privilege to work with organizations like the Grace Lutheran Church and School who are sincerely dedicated to not only their students and parishioners but to their community as a whole. This type of unselfishness and community dedication is rarely seen these days and is definitely a breath of fresh air. "
To find out more information about Grace Lutheran's community courses, you can go to their website at www.gracesandy.org or call 801-572-3793.
Media Contact
Company Name: Total Success Business Solutions
Contact Person: Teresa Lechtenberg
Email: info@brettlechtenberg.com
Phone: 801-899-0330
Country: United States
Website: http://www.brettlechtenberg.com