Certified Personal Trainer, Andrea Carlomusto, was the featured guest on Business Innovators Radio with host Mark Imperial talking about how to discover and achieve true fitness potential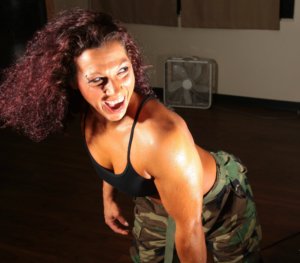 On a recent episode of Business Innovators Radio with Mark Imperial, Andrea Carlomusto, Certified Personal Trainer, discussed how to discover and achieve true fitness potential.
According to Carlomusto, many folks don't know their potential. They start with one goal and they end up surprising themselves.
Carlomusto, said "The type of people that I serve, they normally don't know their potential. They come in and they want to lose weight, like with any trainer, or they want to gain muscle or they want to get back to good before surgery or whatever ailed them. Then we kind of take it to the next level".
When host Mark Imperial asked "are there a certain type [of client] that really gravitates towards you?" Carlomusto answered, "The young bodybuilders, the young guys in their twenties, they tend to come to me for the bodybuilding. I don't know if it's because I'm kind of like a mom or if they just want to try out a girl trainer to see if I have anything different to offer. A lot of the times, I kind of scare off the older demographic until they get to know me because I am very aggressive and very direct. Once they get to me, we go through [a conversation] and if we are a good match, usually they are lifers, which are good".
During the Interview Carlomusto shared that her methods are a little strange, explaining, "You go through school and you know the physiology and I tend to test everything. I test everything out on myself first. I think I'm the toughest case. If I don't think something is working or someone plateaus, that's when you get a little creative. Like I said, I started off just rehabbing myself. I came up with a way to build up without injury…You know, I was pretty fragile back then. It's a slow process in the beginning, and then it hits. I kind of tend to get people ready for their heavier loads and their heavy workouts. Then that's when the fun starts".
Andrea Carlomusto is a Certified W.I.T.S. Advanced Level Personal Trainer and Founder of RX-Training.com and her clients are thrilled with their results.
"If you're serious about getting in shape and toned up, Ande is the trainer to try. She will push you to your limits and keep you coming back for more. Not only is she a great trainer but she is personable, understanding, compassionate and dedicated to YOU!" – Glenda S
"RX-Training helps transform not only your body but your mind too. I've had knee surgery and have been overweight for most of my adult life and with the help of RX-Training I'm doing things I never thought I could do again!" – Ashley S
"Ande is the best trainer that I have ever had. She's fun, energetic, and truly motivating. She listens to you, and builds a workout plan specific to your fitness goals and objectives. She is always there for me, and has made working out something that I look forward to. She's the best! She'll make a difference in your life." – Dave P
The interview concluded with Carlomusto saying "Keep it simple and trust your body. Your body is naturally going to do what it needs to do. Don't fight it. Work with your strengths while you are working on your weaknesses to bring them up. Definitely trust yourself. Don't let anybody tell you what you are doing is wrong if you are not hurting yourself. Everybody is made differently. You have to train the way your body specified. That's probably the biggest piece of advice I'd give to anybody in the gym. ".
To listen to the full interview on Business Innovators Radio, visit http://businessinnovatorsradio.com/special-edition-women-of-fitness-speak-with-mark-imperial/
To learn more about Andrea Carlomusto, please visit http://www.rx-training.com/
Media Contact
Company Name: Imperial Action
Contact Person: Kathleen Zinser
Email: media@imperialaction.com
Phone: 888-523-1987
Country: United States
Website: http://www.imperialaction.com