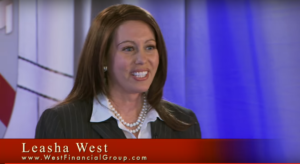 Houston, Tx – Jan 5, 2017 – Every year National Underwriter Life & Health Magazine recognizes the top four of America's best and brightest insurance executives. The winners this year stand out at a time when the industry is undergoing unprecedented challenges and needs the kind of leadership, drive, and brilliance that only the Industry Elites can offer. This award is highly coveted as the winners are chosen by peers that review the finalists for their contribution and innovation to the field.
Leasha West, CEO and Founder of West Insurance & Financial Group, Inc. took top honors as the only female selected as the Industry Elite. This distinguished award culminates the year on a high note for West as she recently received notoriety as the Outstanding Speaker of the West Point Leadership Academy Faculty at the United States Military Academy. In addition, West is continually a top producer in her noble profession and a multi-year member of the Million Dollar Round Table.
As a highly decorated Marine Corps veteran, West emphasizes the importance of giving back and generously donates her time to charitable endeavors. West helped organize and run the Veteran Aid Task Force™, a community outreach of volunteers that assists veterans and their families in a variety of services including senior companionship; coordinating military homecomings and assisting families with military funeral details to name a few. West sits on the board of directors for numerous non-profit organizations and actively mentors college students as they prepare for their chosen field. As a result of her outstanding volunteer efforts, she was awarded the President's Volunteer Service Award by President Barack Obama.
"Just as I served my country, I believe it's my duty to humanity and my obligation to society to continue to serve others," says West. "Let's face it, there's no shortage of people who need help. I encourage everyone to go help someone every day or give back in some way."
To learn more visit: www.westfinancialgroup.com
Follow Leasha on social media:
Twitter: @LeashaWest
Linkedin: https://linkedin.com/in/leashawest
Instagram: https://www.instagram.com/leashawest
Medium: https://medium.com/@LeashaWest
Media Contact
Company Name: The Authority Syndicate Group, LLC.
Contact Person: T. Allen Hanes
Email: info@theauthoritysyndicate.com
Phone: 281-910-8728
Country: United States
Website: http://www.tallenhanespublishinggroup.com