In 2017, International speaker, best selling author, publisher, T. Allen Hanes had the vision to put on an epic event that would light the fire in people's souls to find their mission to live a passionate and successful life. At that time he did not have the how, the staff, or the line up of speakers to pull this off. Never one to be told it can't be done, Hanes set out to "do it!"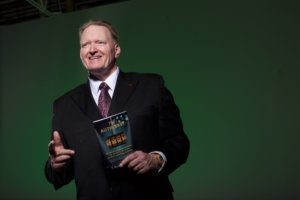 Houston, TX – January 17th, 2017 – As fate would have it the stars aligned and one by one the critical elements began to coalesce. Hanes has put a bold challenge to all that will listen and feel this is for them. "Yes, let us be brave and find our mission, chasing a vision so big and unimaginable that the mere thought of it brings sweat to our palms, stuns our heart with anxiety, yet never fails to lift our soul with purpose. Under no circumstances shall we settle on challenges that fail to inspire; let them be so real and meaningful to us that we rise each day and pursue them with full intensity, until we have victory or we die."
The YOU: Mission Critical lineup consists of seventeen speakers and success coaches from around the country to ensure that attendees are immersed in expert advice on how to take one's life into orbit or on a different trajectory that leads to their mission and greater happiness and success. Dan Fowler "The Imagination Engineer" one of the speakers on the program, an expert in accelerated learning technologies is working with all the speakers to gamify their content. This process ensures a lighthearted playful experience that one learns permanently and instantly. Dan added "People often feel like they are plateauing. And they want to LEVEL UP in their business and life, but they feel stuck, I have found many dedicated and committed people just like you that have these thoughts flying through their heads from time to time. These leaders speaking at this event are no exception to this. In my over 23 years of interactive media production, I have seen and experienced many forms of "feeling stuck" in my business, relationships, and life, and these limiting belief statements have replayed over and over in my head on numerous occasions, this event and these leaders can help YOU with that."
Another major highlight of the program is glass walking with bare feet with, Dave Albin, a firewalk instructor. Dave has worked with Tony Robbins for over 20 years as his firewalk instructor and leader.
According to Albin, "I create Top 10 experiences in people's lives and create paradigm shifts. My nitch is my massive experience and my resume of over 250,000 fire walkers, including BIG names like Oprah and Usher. I worked for Tony Robbins for 20+ years and T Harv Eker for 2 years. I can raise people's self-worth, self-esteem, self-confidence, their awareness, their consciousness and their productivity… GUARANTEED!!"
Other TOP hand selected global speakers on the lineup at Space Center NASA Houston:
1. T. Allen Hanes, CEO, The Authority Syndicate Group, LLC., Host
2. Thomas Blackwell, Strategic Partner, Infusionsoft
3. Leasha West, CEO, West Insurance & Financial Group, Inc.
4. Sharon Frame, CEO, LeadHERship Power, former CNN anchor
5. Victor Escalante, NLP and Brain Spotting Expert
6. Dave Albin, CEO, Firewalk Productions
7. Dan Fowler, CEO, The Imagination Institute, Emcee
8. Tonya Hofmann, CEO, Public Speakers Association
9. Ken Rochon, CEO, The Umbrella Syndicate
10. Joe Koronowski, CEO, 321 Launch Your Life
11. Dale Tyson, CEO, LYL Business Development
12. Patty Farmer, CEO, Patty Farmer International
13. Jennifer Baker, CEO, Ask Jenn Baker
14. Troy West, CEO, Lifestyle Financial Planning (LFP)
15. John Duffy, CEO, Duffy Square Productions, Inc. VIP Speaker
16. Chantel Matheson, Professor at Truckee Meadows Community College
17. Termite Watkins, VIP Speaker, Boxing Champion, Movie "They Call Me Termite"
The event is sponsored by Infusionsoft, JSC Credit Union, The Umbrella Syndicate, and the Public Speakers Association, and Firewalk Productions.
For ticket information go to www.youmissioncriticalhouston.com
Media Contact
Company Name: The Umbrella Syndicate
Contact Person: Ken Rochan
Email: ken@theumbrellasyndicate.com
Phone: 202-701-0911
Country: United States
Website: http//www.theumbrellasyndicate.com