Los Angeles, CA – Petr Myachin is excited to announce his Indiegogo campaign launch to raise funds for IThanks, a new social economic network where thanking people pays them real money. IThanks encourages us to be more grateful for the people around us. For each IThank sent, the company pays that person ten cents.
"Be the change you want to see in the world," says the creator, "We humbly ask you to be grateful to the world and the world, undoubtedly, will be grateful in return. Every person is important. That is why we created this product – to improve everyone's lives."
IThanks is a web application with apps for iOS and Android users. This service allows its users to express gratitude to each other by sending IThanks. IThanks can be earned by completing tasks provided through the app or bought online. As citizens receive IThanks, they can increase their rating and get other awards.
IThanks uses a unique system where any citizen or company can join. Citizens can use IThanks to thank companies whose work they appreciate and social networks or apps can integrate IThanks to allow their users to thank each other. The IThanks app also allows Citizens to communicate by sending text, photo and video messages.
"Big projects improve people's lives. We strive to make a better life on planet Earth, but individual support is essential for global change," Myachin explains, "We are searching for people who share IThanks vision and want to create a World of Grateful People."
In exchange for pledging to the project, backers can gain access to a variety of rewards including your name featured on the IThanks website as a backer for $10, a special smile on IThanks chat that only they can use for $500, and more. Backers can also pledge $2,000 for a personal sticker created by IThanks' wonderful artists.
For more information, please visit the Indiegogo page here or contact the creator below.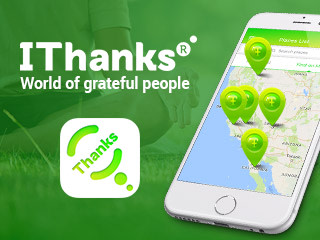 Media Contact
Company Name: IThanks
Contact Person: IThanks PR
Email: info@ithanks.com
Country: United States
Website: https://www.indiegogo.com/projects/ithanks-finance-community#/