Atlanta House Cleaning service offers tips for hosting a Super Bowl Party and have a special offer for Atlanta Falcons fans.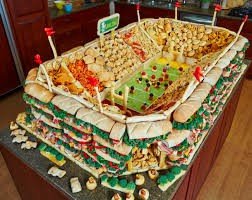 Atlanta House Cleaning Company, Atlanta Eco Cleaners, want fans to have fun during Super Bowl LI and cheer on the Atlanta Falcons. It's not every year that the Falcons make it to the Super Bowl and although people in Atlanta may host a Super Bowl party every year, this one is going to be special for Atlantans.
There are a lot of things to think about when hosting a Super Bowl party from inviting friends and family to making sure to have enough drinks and snacks available to last through the whole game. There is an often over looked area though that might not be thought of until the last minute….Cleaning!
Amanda Howe, owner of Atlanta Eco Cleaners says, "People make all the preparations for the party and get all the supplies home, then forget that they need to clean up before the party so they can invite people into a nice clean home to get into the spirit of the game. It sometimes becomes a last minute stress and that is certainly not what you want to feel as your guest arrive."
Atlanta Eco Cleaners have a checklist on their website on How To Prepare For A Super Bowl Party and what to do when the party is underway. While passion is running high and the game is on, it is easy for fans to lose their minds in the moment and forget where the trash can is. There are usually a lot of spills and trash lying around everywhere as people don't want to take their eyes off the game. Even half-time is a spectacle, as well as all the commercial breaks. So, there is no time to clean up. Heck, the host would be lucky if they even get up to go to the bathroom.
After the game has finished there can be a disastrous scene. The food and drinks are everywhere. The floor cannot be seen because of the trash and it can be hard to get guests to stay and help clean up. But, there is a problem. They have had a few beers and are either happy and celebrating or mad and sulking. Neither of these moods enhances the chance of them sticking around to help clean.
Maybe after 4 hours of destroying the house, it is for them to just leave, but when all is quiet and guests are gone, take a look at the aftermath and it may be time to call in the help.
Atlanta Eco Cleaners are offering a special price for Super Bowl clean up after the party. Howe says, "We have been called in many times to clean up after Super Bowl parties and it can be a mess. It can be very overwhelming for one person to do on their own. That is why we wanted to offer Atlanta Falcons fans a special deal on party clean up after the game. We will come in and clear all the food, drinks and trash and haul it all away and wipe everything down so your home can get back to normal again, all for just $99."
Atlanta Eco Cleaners hope this is going to be the year for the Atlanta Falcons and there will be cause to celebrate.
To find our more about Atlanta Eco Cleaners, visit their website or call Amanda at (404) 793-7550 to set up a special Super Bowl party cleaning.
Atlanta Eco Cleaners have been serving the people of Atlanta for over 5 years and have been awarded one of the top cleaning services in Atlanta by Expertise.com as well as being featured on many major media websites as the cleaners to the stars.
Media Contact
Company Name: Ace Marketing Consultants
Contact Person: Dawn McClure
Email: support@theauthorityarchitect.com
Phone: (404) 428-1399
Country: United States
Website: http://TheAuthorityArchitect.com